2017 FEI World Dressage Challenge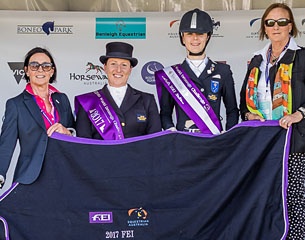 Thirty-one elite combinations and two 4* judges made for an incredible introduction to the first FEI World Dressage Challenge held at the magnificent Boneo Park in Victoria, Australia on 18 - 20 October 2017. The event offered five performance levels and two age groups (12-16 and 16 years of age and above): Intermediate, Prix St Georges, Advanced, Medium and Elementary competitions were staged and there were two Classifications – Individual and Team.
The FEI World Dressage Challenge is designed to create a 'bridge" between the National level and the first FEI level of International competition and is aimed at all Dressage riders with a dream goal of representing their country in international Dressage at the highest level and on home soil. This is Australia's inaugural year in the long-running FEI competition in the new format with its last participation being in 1999 and on the back of today's success, we look forward to having it return to our dressage calendar next year!
Australia's international 4* FEI judge Jane Ventura and New Zealand's Helen Hughes Keen who is also an international 4* judge had the privilege of judging these very deserving combinations!
Australia was represented in the Challenge by a team composed of Caitlin Porter riding Marena Display (youth), Stephanie McDonald riding Che de Jeu (PSG), Sara Price riding Cheval de Luxe (PSG) and Jamie Mita riding Westewind (Inter I).
The first class was the Youth class with 7 strong combinations. First place went to Isabelle Luxmoore riding the gorgeous Linus WK (68,334%). Second place went to Jasmine Haynes and Steendieks Champ Of Glory (67.167%) and third was Caitlin Porter and Marena Display (66.417%).
Monica Bird riding the imported Bourgogne won the Senior I class with the highest score of the day (68,380%)! In second was Julia Weir on Donna Dior I (64,532%) and third was Erin Bullock and Miss Fanta (64,375%).
The Senior II class was another strongly contended class with 0.068% between first and second. The winner was Sidney Hoffman (66,554%) and the fabulous Freedom C who enjoyed a very successful day! Cassia Montgomery and Rebel M came second (66,486%) and Madison Layfield riding Remi Legenderry in third (65,608%).
The Prix St Georges was won by Sara Price from New South Wales on the super stallion pony Cheval De Luxe (67,434%). Stephanie McDonald and Che De Jeu came second (64,145%) and Kerry Mack and Mayfield Limelight came third (63,421%).
The final class of the day was the Intermediate I which was won by another stunning stallion, Westewind, ridden by the 16-year-old Jamie Mita (67,698%) who was the youngest competitor in this class, with Stephanie McDonald and Che De Jeu (67,237%) coming second and Sara Price and Cheval De Luxe in third (65,987%).
Related Links
Scores 2017 CDI-W Boneo
Philippines Win Zone 9 FEI World Dressage Challenge 2015
China Leads 2014 FEI World Dressage Challenge in Zone 9
Chilean Virginia Yarur and Team South Africa win 2012 Zone 1 FEI World Dressage Challenge 
First FEI World Dressage Challenge in Indonesia