KWPN Breeding News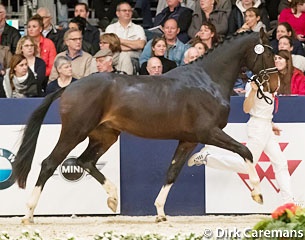 Twenty 3-year old colts have been entered for the 2017 KWPN Autumn Stallion Performance Testing in Ermelo, The Netherlands, which will begin on 9 October 2017. The performance testing lasts 50 days.
Twenty dressage bred colts have been officially entered for the autumn testing. On the first day they will be presented under saddle by their usual riders, before beginning the testing with the official test riders at the KWPN/KNHS head quarters in Ermelo. 
The KWPN licensing commitee still has the right to reject stallions from the testing based on their first saddle presentation and vet check.
The entered dressage colts are:
Joyride (by Ampere x Jazz)
Jaqiedo (by Aquido x Jazz) 
Jupiter (by Bon Bravour x Flemmingh)
Jim Beam (by Capri Sonne JR x Louisville) 
Jironn L (by Charmeur x Rubin Royal)
Joyrider (by Charmeur x Hotline)
Jefferson P (by De Niro x Florencio)
Jewel Star (by El Capone x Krack C)
Jacky Ickx Texel (by Enzo Ferrari x Jazz)
Jumeaux (by Ferdeaux x Jazz)
Jakarta (by Five Star x San Remo)
Ferrero VDB (by For Romance x Don Crusador)
Jarpur (by Ghandi x Don Vino)
Just Mickey (by Lord Leatherdale x Negro)
Jalabert (by Rousseau x Apache)
Jazzuan SVN (by Sezuan x Jazz)
Justum DBG (by Sezuan x De Niro)
Jerez (by Vivaldi x Ferro)
James Dean MC (by Quasar de Charry x Londonderry)
Jaxon (by Negro x Krack C)
Photo © Dirk Caremans
Related Links
Just Wimphof and Jerveaux, High Scorers at 2017 KWPN Spring Stallion Performance Testing
Thirteen Stallions Entered for 2017 KWPN Spring Stallion Performance Testing
Dettori Wins 2016 KWPN Spring Stallion Performance Testing