Hanoverian Breeding News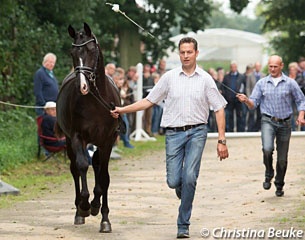 The Hanoverian stallion licensing committee has selected seventy-one dressage bred colts that are now eligible to appear at the 2017 Hanoverian Stallion Licensing to be held in Verden, Germany, on 26 - 28 October 2017.
Breeders and stallion owners were able to present their young colts for approval at a selected number of pre-selection events between 5 - 14 September 2017.
Pre-selection venues included Dohlberge, Hepstedt, Dorum, Alterbruck, Freiburg, Dobrock, Bodenstein, Alsfeld, Verden, Wickrath, Isterberg, Wohlesbostel, Luhmuhlen, Oetzen, Filsum, Benstrup, Bersenbruck, Barver and Hoya.
Finest (by Furstenball x Wie Weltmeyer) has became the sire with the most offspring selected for the 2017 Hanoverian Stallion Licensing. Finest has no less than 10 offspring picked for the licensing. The second best producing stallion in this lot is Finest's sire Furstenball himself with five offspring selected.
The now 6-year old Finest has been a very popular breeding stallion since his licensing in 2013. This year he presents his first crop of offspring. Finest himself, however, has achieved no significant results in sport. In 2015 Christin Schutte rode him in four A-level classes at small, local shows. In 2016 he did one L-level test and in 2017 he has not been shown at all.
The stallions selected for the 2017 Hanoverian Licensing are:
Finest - Rubin-Royal - Davignon I
Foundation - Belissimo M - Fürst Heinrich
Fürstenball - Rascalino - Weltmeyer
Livaldon - Benetton Dream - Connery
Wild Child - St. Moritz  - Rotspon
Londontime - Carabas - Don Bosco
Scuderia-  Belissimo M - Worldly
Don Nobless - Lauries Crusador xx - Rotspon
Finest - Sandro Hit - Carismo
Jazz - His Highness - Lauries Crusador xx
Finest - Lauries Crusador xx - Raphael
Fürstenball - Sandro Hit- Waterford
Quaterback L- auries Crusador xx - Raphael
For Romance I - Royal Diamond - Donnerhall
Fürst Belissaro - Del Piero - Bolero
Hochadel - Dancier - Legat
Don Nobless - Sandro Hit - Rubinstein I
Feedback - De Vito - Andiamo
Johnson - Beltoni - Dacaprio
Sezuan - Desperados - Rotspon
Livaldon - Rotspon - Bolero
Finest - Dancier - Weltmeyer
Fürstenball - Dancier - Hohenstein
Livaldon - Worldly - Longchamp
Finest - Belissimo M - Donatelli
Firestone - Gribaldi/T. -  Banditentraum
Funtime - Londonderry-  Weltmeyer
Fürstbischof - Lizitant - Sherlock Holmes
Sarotti Mokka Sahne - Weltmeyer - Wanderbursch II
Sezuan - Donnerhall - Weltmeyer
Zack - Soliman de Hus - Fielmann
Danciano - Riccione - Sandro
Danzador - Royal Highness - Brentano II
Escolar - Rohdiamant - De Niro
Finest - Don Schufro - Atatürk
For Romance I - Rubiloh - Ehrentusch
Fürst Fohlenhof - Lord Loxley - Aquilino
Sir Heinrich - Florestan I - Entree
Dancier - Bonifatius Hochadel - Isterberg
Rocco Granata - Fürst Nymphenburg - De Niro
Zack -  Feuerspiel - Donnerhall
Instertanz V - Belissimo M - Rotspon
First Ampere - Diamond Hit
Don Olymbrio L - Dancier - Weltmeyer
Farrell - Sunlight xx - Windhuk
Finest - Soliman de Hus - Weltmeyer
Franziskus - Royal Blend -  Londonderry
San Amour I - Prince Thatch xx - Warkant
Scolari - Sir Donnerhall II - Warkant
Sezuan - St. Moritz - Glenfiddich
Sir Donnerhall I - De Niro - Prince Thatch xx
Dante Weltino - Sir Donnerhall I - Shakespeare in Love
De Niro - Hohenstein/T. - Donauwalzer
Danciano - Danone I - Wolkenstein
Ampere - Desperados - Brentano II
Fürstenball - Scolari - Worldly
Negro - Christ - Fürst Heinrich
Farrell - Sir Donnerhall I - Brentano II
Finest - De Niro - Weltmeyer
Finest - Rotspon - Prince Thatch xx
Fürstenball - Wolkentanz II-  Sandro Song
Don Index - Lauries Crusador xx - Rotspon
Don Nobless - Stedinger - Weltmeyer
Farrell - Buddenbrock/T. - Weltmeyer
Finest - Donnerhall - Aarking xx
Franziskus - De Niro - Madison
Fürst Belissaro - Champus - Donnerschlag
Fürst Belissaro - Don Primus - Wanderbursch II
Vivaldi-  Fidertanz - Weltmeyer
Deveraux - Hochadel - Aalborg
Toto Jr. - Sandro Hit - Carprilli
Photo © Christina Beuke
Related Links
Pre-Selection for the Hanoverian Stallion Licensing: The First Step on the Way to Become a Legend
Finest Colt, Best Seller at the 2017 Bavarian Elite Foal Auction
Escolar and Finest Sire 2015 German Foal Champions
Strong Crop and Big Prices at 2013 Hanoverian Stallion Licensing