2017 U.S. Young and Developing Horse Championships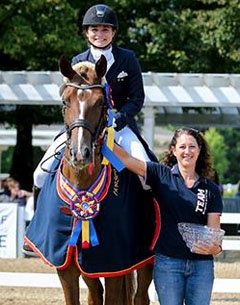 Anna Stovall and Frankie claimed the U.S. Developing Prix St. Georges Horse Championship. Alyssa Doverspike and Darius maintained their lead to become the U.S. Young Horse Champions of the Five-Year-Old division, while Alice Tarjan and Serenade MF claim the U.S. Four-Year-Old Championship title.
Today's tests counted 60% towards their overall score with the remaining 40% derived from Thursday's first round tests.
Frankie Wins 2017 U.S. Developing Prix St. Georges Horse Championship
Stovall (Chesapeake, Va.) and Frankie, Catherine Haddad-Staller's eight-year-old Hanoverian mare by Florencio x A Jungle Prince, put in a beautiful test, not only winning the Developing Prix St. Georges Horse Test, but also claiming the Developing Prix St. Georges Horse Championship title. Placing fourth in Thursday's preliminary test with a 68.42%, combined with her winning score of 71.17% on Saturday, her overall score totaled 70.07%. Watch their winning test.
"In the first test, I wanted to ride a little conservatively and point to point and demonstrate that we can execute the test technically," said Stovall. "Then today, I felt comfortable going ahead and giving her a little bit of gas, and it paid off."
The combination has been working together since the mare was three. Bred and owned by Haddad-Staller, Frankie has been exclusively ridden by Stovall since they began working together. Their first trip to the Developing Horse Championships has proven to be an exceptional one.
"I love [Lamplight]! It has been a great experience. It is a beautiful facility and it's so well run, so I have really enjoyed every moment of it," said Stovall.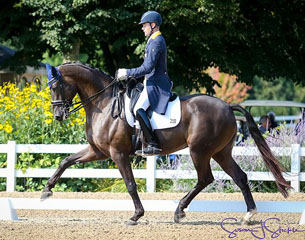 Moving up from third place following Thursday's test with a 68.59%, Endel Ots (Wellington, Fla.) and Lucky Strike (by Lord Laurie x His Highness) placed third in Saturday's class with a score of 70.63%, boosting the combination to reserve champion in the U.S. Developing Prix St. Georges Horse Championship.
When asked about the difference in the performance today with Max Ot's seven-year-old Hanoverian gelding, Ots responded, "I just relaxed a little bit more and let him go and try for it. It was a nice, clean test and I was very happy with him."
Carly Taylor-Smith (Malibu, Calif.) and Nikki Taylor-Smith's seven-year-old Oldenburg gelding Rosalut NHF (by Rosenthal x Salut) earned third in the U.S. Developing Prix St. Georges Horse Championship with a total score of 69.41%. They also earned the Oldenburg Award and U.S.-Bred Award, given to the highest scoring Oldenburg by the Oldenburg Horse Breeder's Society and U.S.-bred horse, respectively.
"My test was very different than Thursday. He was one hot tamale," said Taylor-Smith. "He is still only seven and I know he is still green and has a little growing up to do. Overall quality of that horse is really special. I am still very happy despite his spicy-ness."
Taylor-Smith scored a 70.43% in Thursday's preliminary test, winning the class, and a 68.72% in Saturday's test, placing sixth.
Darius Wins 5-Year-Old Championship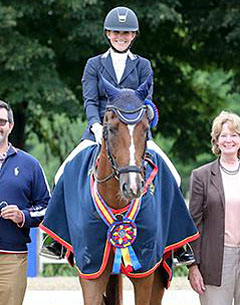 After a winning preliminary test on Thursday, Alyssa Doverspike (Wildomar, Calif.) and her own Hanoverian gelding Darius (by Don Darius x Boss) held on to the top position to claim the overall U.S. Five-Year-Old Championship with a score of 7.74. The walk was the highlight of her test, earning her an 8.80 from the judges and proving that her approach to this second test was the right one.
"I'm so proud of [Darius 555]. He is such a good boy," said Doverspike. "I left the walk as is, like I tried to do the day before. He was a little tired in the canter, but I really felt like I had more forward movement in the trot."
Doverspike reaffirmed what a special opportunity it is to ride at these national championships, saying, "It is an honor to be here amongst the best young horses in the country and some really good riding…The atmosphere can be a little bit more intense. It pushes you and it pushes your horse; you can see how they handle that type of pressure. I really love that and it is such a good group of people. The horses are challenging, so you get a lot of good insight and advice from other riders and trainers who have been down that road."
The combination scored 7.76 on Thursday in the preliminary test and a 7.74 in Saturday's final test.
Judy Kelly (Clarkston, Mich.) and her own Hanoverian mare Quintess (by Quaterhall x Wolkenstein II) placed fifth in the preliminary test on Thursday with a 7.60. Improving to second in the final test with a score of 7.74, the combination took second overall with a final score of 7.68.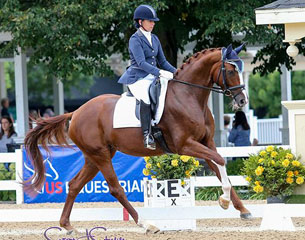 "I tried to go forward a little bit more and add the power. I know she does have power," said Kelly. "The first day was a little tricky…she had a good school yesterday on the day off and [I] just tried to add more power to it. I am very proud of my girl too. She is a great worker."
Craig Stanley (Madera, Calif.) and his own KWPN gelding Habanero CWS (by Idocus x OO Seven) were third with an overall score of 7.63. The combination finished second in the preliminary test on Thursday with a 7.72 and placed third in the final with a 7.58.
"I thought my test was better than I did on Thursday. We just had one bobble…again, I am really grateful that I managed to get here and have a sound horse, and a sound horse to take home. I'm really happy," said Stanley.
Serenade MF Wins 4-Year-Old Championship
Alice Tarjan (Frenchtown, N.J.) held her positions with the top two horses of the U.S. Four-Year-Old Championship, bringing home the championship title with the Hanoverian mare, Serenade MF (by Sir Donnerhall x Don Principe), bred by Maryanna Haymon, and the reserve champion title with her own Oldenburg mare Fairouz.
In the preliminary test on Thursday, Tarjan scored an 8.40 with Serenade MF, improving upon that score slightly in the final test with an 8.48. Serenade MF was also the recipient of the U.S.-Bred Horse Award, for the highest scoring U.S.-bred horse in the class. Watch their winning test.
"I think Serenade put in a really solid test her first day – you want to try to duplicate that," said Tarjan. "The canter work was better for the most part. She felt great, so I was really happy about that."
Tarjan and Fairouz (by Franziskus x Don Frederico) also improved upon their preliminary test score of 8.0 to an 8.2 in the final test. Fairouz received the Oldenburg Award, as the top placing Oldenburg in this class.
"Her canter work was better, so I was happy. The judges really liked her trot, so that was great. I thought I was giving away a lot of points on little things, but, luckily, the judges are forgiving because she is four, which makes sense. I was pleased [the horses] were happy. They were good with the environment, so mission accomplished. It was good for them – a good experience here," said Tarjan.
With a passion for bringing young horses up through the levels, Tarjan said that the first three years of training a young horse is like Christmas every morning.
"I love training the young horses," said Tarjan. "It is what I live to do every day. It is fun when they are young because they come along so quickly. It's like unwrapping a Christmas present – you never know what's inside as you train them up. I love the process and how they develop. I love seeing them move up through the levels. It is so much fun – they make so much progress."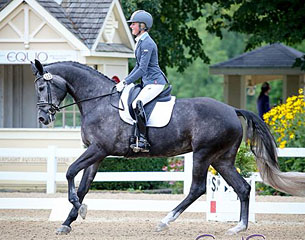 Kimberly Dougherty (Cazenovia, N.Y.) and her own Oldenburg mare, Celebration (by Coeur d'Amour x Rosenthal) held tight to their third-place position, but also improving their performance. Thursday's preliminary test yielded a score of 7.9 for the combination, which they improved to an 8.0 in the final test, giving the combination an overall score of 8.02.
"[Celebration] came out with more power. She was actually a little fresh, which was exciting because I was not worried about her being lazy in there," said Dougherty. "I thought she was super today. I had a little bit more power than I had two days ago. She was rideable and I think, overall, for her first time here, I am really happy with her."
Photos © Sue Stickle - USEF
Related Links
Scores 2017 U.S. Young and Developing Horse Championships
Ravenna and Fashion Designer OLD Win Titles at 2017 U.S. Young & Developing Horse Championships
Parra and Woodard on Top of Divisions at 2017 U.S. Young & Developing Horse Championships
Tarjan, Doverspike, and Taylor-Smith Lead Early in 2017 U.S. Young and Developing Horse Championships