American Dressage News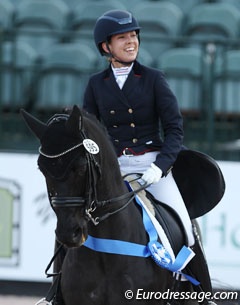 American Grand Prix horse Sagacious HF has been released from Miami quarantine after being held for a positive glanders test. A legal procedure and several retestings led to the release of the horse on 24 August 2017.
Hickok and Al Guden's 18-year old Dutch warmblood Sagacious HF (by Welt Hit II x Cocktail) had travelled to Europe to compete in the Nations' Cups in Falsterbo and Hickstead. 
However upon his return home to Wellington, Florida, at the beginning of August, the black gelding tested positive for glanders on two complement fixation tests at the U.S. Department of Agriculture quarantine center at the Miami International Airport.
Guden immediately sought out legal counsel and had the horse retested on the Western Blot, which turned out negative. An additional Western Blot on 23 August came out negative as well after which the horse was released.
"We are so happy that Sagacious HF is back in his stall, where he belongs," said rider Chase Hickok. "Thank you to everyone who helped to bring him home - the prayers and well-wishes mean more than you know! But the journey doesn't end here... we look forward to doing all we can to help in revising existing protocols and making for better processes in the future. Our hope is that all horses being imported, alongside their owners and teams, will benefit from our experience!"
Photo © Astrid Appels
Related Links
Sagacious HF Tests Positive to Glanders Upon Return to the U.S.A.
Scores: 2017 CDIO Hickstead
Scores: 2017 CDIO Falsterbo
Sagacious HF Leased to Chase Hickok