2017 Belgian Dressage Championships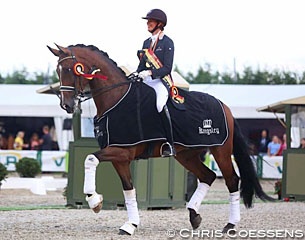 Junior rider Suraya Hendikx, young rider Hannelore Beckers, under 25 rider Soraya Brison and senior Grand Prix rider Jorinde Verwimp became the winners of the 2017 Belgian Dressage Championships held at the Flanders Dressage Event at Stable Hulsterlo in Meerdonk, Belgium, on 27 - 30 July 2017.
This year's edition of the Belgian Championships did not include the Pony Championships, which were held one week before. The Belgian Nationals and the European Pony Championships took place the same weekend so the Pony Nationals were held a week before (!) the Euros. There was more calendar conflict this year. The European Junior and Young Riders Championships will begin in 10 days after the Belgian Nationals so several riders deliberately opted not to compete in Meerdonk, while others used it as a preparation event.
The majority of Belgium's strongest performing junior riders decided to show up and Suraya Hendrikx claimed the title aboard Dear Friend (by Danone I x Dollman). She won all three rounds convincingly with 71.865% in the team test, 72.605% in the individual test and 75.515% in the Kur to Music. The silver medal went to Laura Luyten on Dark Chocolate (by Damon Hill x Florestan). After a bumpy start in the team test (67.378%), she recovered in the individual test (70.711%) and finished second in the kur (73.645%). Emily Anthonissen and Fair Diamond DHB (by Farewell III x Royal Diamond) got bronze with 65.405%, 68.342% and 71.725%.
"Wow, Belgian Champions. I'm so incredibly proud of my handsome baby," said Hendrikx of her 6-year old Westfalian Dear Friend. "He did great at such a young age." Suraya is trained by Jeannette Haazen. With her second horse Black Beauty she scored the third highest marks (in principle good for bronze) but only the results of one horse count for the Championships.  
The young riders' division was a bit "thinner" but that didn't make the competition less interesting. Brand new pair Hannelore Beckers and Crack C van het Vijverbos (by Don Renoir x Feinschnitt I van de Richter) cruised to their first national title and gold medal. They were second in the team test (67.842%), and won the individual and kur with 69.184% and 75.050%. Belgian team routinier Jamina Gijsels and Zico (by Sir Sinclair x Homme d'Amour) scored the silver with 67.895%; 68.105% and 70.660%. Flore de Vos and Catcher (by Dreamcatcher x Jazz) followed in the bronze medal position with 66.421%, 65.868% and 68.810%.
Belgium currently has three riders competing in the Under 25 Grand Prix division. Two of them are currently competing internationally. Soraya Brison and her long-time partner Giorgio Armani (by Goethe x Donnerhall) freewheeled to gold with three winning rides. She scored 66.816% in the Intermediaire II, 64.884% in the Short Grand Prix and 68.010% in the Kur to Music. Carole Schepens and Valvet Dream (by Dream of Heidelberg x Amsterdam) earned silver with 63.895%, 64.419% and 64.705%, while Thomas Debecker and Deauville (by Delgado x Gervantus) finished with bronze after scoring 64.579%, 62.977% and 63.275%.
"He's absolutely perfect to me," said Brison about her horse. Soraya is a long-time student of Carmen de Bondt.
The senior Grand Prix riders only had to compete in two rounds, whereas all other divisions were made up of three rounds. Belgium's Olympic individual rider Jorinde Verwimp and her 17-year old Dutch bred Tiamo (by Lester x Hemmingway) still rule the roost in Belgium, also at national level. The pair won the Grand Prix with 71.580% and the Kur to Music with 77.500% to earn the national title and gold medal. Laurence Roos and Fil Rouge (by Stedinger x Argentinus) were solid for silver with 70.960% and 74.490%, while newcomers to Grand Prix level, Isabel Cool and Aranco V (by Ferro x Ramiro) won bronze ahead of several international combinations. Cool and Aranco V scored 68.9àà and 73.600% for bronze and showing promise for the future. Title defender Jeroen Devroe unfortunately could not make it to Meerdonk as his horse Eres DL has sustained an injury. 
Results - 2017 Belgian Dressage Championships
Junior Riders
1. Hendrikx Suraya - Dear Friend  - 71,865 - 72,605 - 75,515 --- 219,985
2. Luyten Laura - Dark Chocolate - 67,378 - 70,711 - 73,645 --- 211,734
3. Anthonissen Emily - Fair Diamond DHB - 65,405 - 68,342 - 71,725 --- 205,472
4. Richmond Charlotte - Hermes - 67,784 - 67,658 - 69,630 --- 205,072
5. Van Santvliet Lore - Cacharelle - 65,000 - 63,658 - 68,975 --- 197,633
6. Van Den Steen Amber - Fame - 64,919 - 63,895 - 67,600 --- 196,414
7. Van De Velde Jozefien - Compris vd Stuyver - 61,946 - 63,421 - 64,050 --- 189,417
8. Adriaenssens Arranka - Devereux - 62,203 - 59,211 - 62,000 --- 183,414
Hendrikx Suraya - Black Beauty - 69,459 - 68,737 - 71,925 --- 210,121
Van Den Steen Amber - Dutch Lord - 64,919 - 65,553 - 67,850 --- 198,322
Young Riders
1. Beckers Hannelore - Crack C Van Het Vijverbos - 67,842 - 69,184 - 75,050 --- 212,0762
2. Gysels Jamina - Zico - 67,895- 68,105- 70,660 ---- 206,660
3. De Vos Flore - Catcher - 66,421- 65,868 - 68,810 --- 201,099
4. Beck Delphine - Zelion B - 64,105- 65,605- 68,455 --- 198,165
5. De Graeve Laura - Sandro's Diamond - 61,421 - 63,947 - 67,125 --- 192,493
6. Vandeborne Lore - Ikke-pia V/d Bergerhoeve - 65,263 - 65,447 - 53,885--- 184,595
7. Larbie Cedric - Zonneglans - 61,658- 60,132- 61,135--- 182,925
Under 25
1. Brison Soraya - Giorgio Armani - 66,816 - 64,884 - 68,010 --- 199,710
2. Schepens Carole - Velvet Dream - 63,895 - 64,419 - 64,705 --- 193,019
3. Debecker Thomas - Deauville - 64,579 - 62,977 -63,275 -- 190,831
Seniors
1. Verwimp Jorinde - Tiamo - 71,580 - 77,500 --- 149,080
2. Roos Laurence - Fil Rouge - 70,960 - 74,490 --- 145,450
3. Cool Isabel - Aranco V - 68,900 - 73,600 --- 142,500
4. Verliefden Fanny - Indoctro V/D Steenblok - 69,400 - 72,510 --- 141,910
5. Verreet Katrien - Galliani Biolley - 68,040 - 70,910 --- 138,950
6. Heylen Tom - Gucci 'H' - 65,440 - 69,135 --- 134,575
7. Verboomen Justin - Distinto - 61,400 - 69,475 --- 130,875
8. Van Ingelgem Stefan - Wadest - 63,220 - 64,935 --- 128,155
9. Schepkens Kris - Vladimir - 59,580 - 65,490 --- 125,070
10. Vantieghem Stefanie - Uverdo - 56,920 - 62,450 --- 119,370
Related Links
Jeroen Devroe Wins 2016 Belgian Grand Prix Championships
Meyssen, Morosini, Kielenstijn Win 2016 Belgian Youth Riders Championships
De Schepper, Verberne, Kielenstijn, Devroe Win 2015 Belgian Dressage Championships
Antonia Arl Succeeds Sister and Wins 2014 Belgian Pony Championships
Verberne, Verwimp and Vanommeslaghe Win 2014 Belgian Dressage Championships
Arl, Defalque, Verwimp, Missiaen Win 2013 Belgian Dressage Championships
Arl, Verwimp, Waelkens, Devroe Win 2012 Belgian Dressage Championships
Jeroen Devroe Prevails at 2011 Belgian Dressage Championships
Jeroen Devroe Captures Sixth Belgian Grand Prix Champion's Title
Goris, Mommen, D'Hoore and Devroe 2009 Belgian Champions
Van Olst, Mommen, Vandenberghe Win 2008 Belgian Youth Riders Championships
Stefan van Ingelgem, 2008 Belgian Dressage Champion
Van Olst, Mommen, De Souter, De Deken and Devroe, 2007 Belgian Dressage Champions
Arlette Holsters and Faible Win 1998 Belgian Dressage Championships
Meiresonne, Pauluis, Smits, 1997 Belgian Youth Riders Champions