2017 Dutch Indoor Dressage Championships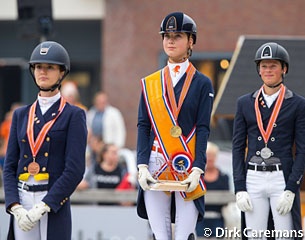 Junior rider Daphne van Peperstraten, young rider Esmee Donkers, small tour rider Lynne Maas, Under 25 rider Anne Meulendijks, and senior Grand Prix rider Edward Gal became the winners and recipients of the champion sash and title in their division at the 2017 Dutch Dressage Championships in Ermelo, The Netherlands, on 13 - 17 July 2017.
In the junior riders Daphne van Peperstraten and het 10-year old Dutch bred Cupido (by United x Duco) were a league of their own, winning round one with 75.946% and the kur to music with 80.800% to finish on a winning total of 156.746 points. The silver medal went to Sem Stiemer on Waldemar, a 14-year old Dutch bred gelding by Negro x Inspekteur). He scored 72.252% and 73.925% to finish second with 146.177 points. Thalia Rockx and the home bred Verdi de la Fazenda (by Florett As x Sandro Hit) dropped from young riders level to juniors this 2017 show season and it landed her on the Dutch national podium with the bronze medal.  The pair was fifth in the team test with 68.919% and third in the Kur with 73.100% to finish third overall with 142.019 points. 
"We are still becoming more and more a combination," said Van Peperstraten. "Cupido is getting more expression each time and we are both well on form. We had scored 79% a few times before, but to get 80% here is really very nice."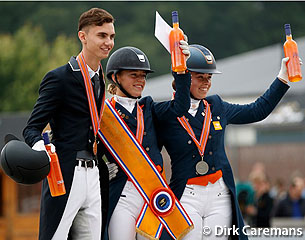 At Young Riders level the competition was far from what everyone expected it to be. Seasoned youth riders Lisanne Zoutendijk, Julia Groenhart and Febe van Zwambagt all performed below par in the team test, with the latter two both retiring from the test. It totally reshook the cards for the other riders and left the field wide open for Esmee Donkers and the 10-year old Dutch bred Chaina (by Sir Donnerhall x Rubioso N) to win the title. She won the team test with 73.421% and the kur with 78.225% to finish first with 151.646 points. Jasmien de Koeyer and her 8-year old Dutch mare Esperanza (by Desperados x Krack C) grabbed the silver with two second place finishes on 71.368% and 74.375% (total 145.743 points). Brand new combination Robin Bernoski on Laura Quint('s 15-year old grey stallion Velazquez (by Krack C x Alaska) were good for bronze with  68.421% and 74.200% (total 142.621 points).
"On Friday we had to ride in a lot of rain and now the arena was quite busy. She was a good girl, but still sensitive. It gives me confidence that she did it all and kept on working," said new champion Donkers about her dark bay mare. "After I've won the KNHS Young Riders Cup finals, I knew we had a good chance at the Dutch Championships, but I didn't expect this."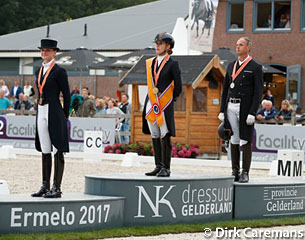 At small tour level Lynna Maas and her 8-year old Dutch mare Electra (by Jazz x Ferro) bested the field after placing second in the Prix St Georges with 72.895% and winning the Kur with 75.900%. Their point total was 148.795 points. Patrick van der Meer and Charlotte Kruiniger's 10-year old black stallion Chinook (by Vivaldi x Havidoff) earned silver after scoring 71.316% and 75.800% to finish on 147.116 points. Marieke van der Putten and Emporio MB, an 8-year old Dutch bred gelding by Armani x Houston), got bronze with 72.588% and 74.500% (total 147.088). 
"I could cry. If you now what kind of start we had. She was very difficult, very stubborn. Now I can handle it, but he who laughts last, laughs best," said an overjoyed Maas. "I just can't believe it. I knew we had to ride faultfree. Anky told us so. And then the two's and three's went well and I thought, 'yes finally faultfree," but then she started doing ones and I thought 'no." The rest was all good. This is just awesome."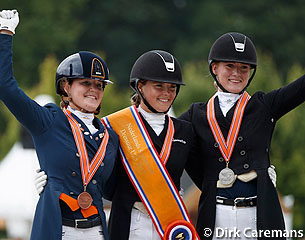 In the Under 25 division, Anne Meulendijks was the undisputed winner on her 12-year old Dutch bred Avanti (by United x Farrington), winning the short Grand Prix with 74.395% and the Kur to Music with 80.100% to finish with gold on 154.495 points. Denise Nekeman and her 11-year old Dutch stallion Boston STH (by Johnson x Quattro B) grabbed the silver with two second places on 73.256% and 77.000% (total 150.256). Jeanine Nieuwenhuis and Tim Cooman's Dutch gelding TC Athene (by United x Jazz) finished on the bronze step of the podium after a third place in the short Grand Prix II with 72.349% and a fourth place in the Kur with 73.150% (total 145.499 points).
"I'm reall super happy that I could finish it with such a freestyle," said Meulendijks. "It's a personal record for us at Under 25 level. My horse felt fantastic. The pirouettes were a bit better than in the first test and we were able to improve. Now we're going to enjoy this and then it's off to Aachen next week."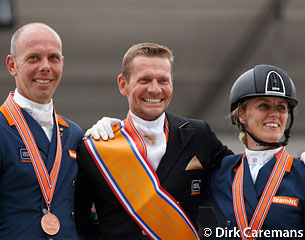 At senior Grand Prix level the competition was not entirely smooth sailing for all. In the first round, no less than four riders retired from their test as their horses got distracted, tense or had tongue issues. Before the show started, Adelinde Cornelissen had already announced that she would not be presenting her top ride Aqiedo (by Undigo) as she considered him not ready for Dutch team selection for the European Championships. The Dutch Grand Prix championships were the second and final observation and selection trial for Dutch team selection for the 2017 Euopeans in Gothenburg. Madeleine Witte-Vrees and the 10-year old Cennin (by Vivaldi x Donnerhall) seemed well on their way to win the title after placing first in the Grand Prix with 77.820% but they could not perserve in the Kur to Music in which Edward Gal and the 9-year old Danish stallion Zonik (by Zack x Romanov) topped the board. Gal scored 82.525% in the Kur and with his 77.500% Grand Prix score added to that, he finished first on 160.025 points and bagged the national title once more, for the ninth time in his career. Witte-Vrees earned silver with 77.820% and 80.935% (total 158.755 points) while Hans Peter Minderhoud and the 15-year old Dutch stallion Johnson (by Jazz x Flemmingh) got bronze after two third places with 76.960% and 80.865% (total 157.825 points).
"Zonik is only nine years old, but he's really doing well," said the brand new champion. "This was only his fourth Grand Prix and his second Kur. It was only the second time we rode to his music, but it fits him well. I'm just very happy with how he handles things, but he's really still a young horse and you notice that he gets tired. It's very important that we take it easy with hum. Zonik is really a very good horse. I think he still needs a year or maybe even two to mature into a top Grand Prix horse. Every show he goes better and that gives much hope for the future."
Photos © Dirk Caremans
Related Links
Scores 2017 Dutch Dressage Championships 
Oudhof, Nieuwenhuis, Gal, Meulendijks, Van Silfhout Crowned 2016 Dutch Champions 
Scores: 2015 Dutch Dressage Championships
Scores: 2014 Dutch Dressage Championships
Scores: 2013 Dutch Dressage Championships
Edward Gal and Undercover Win 2012 Dutch Dressage Championships
Minderhoud, Witte-Vrees, Krooswijk and Te Riele Proclaimed 2011 Dutch Dressage Champions
Gal Prolongs Grand Prix Champion's Title at 2010 Dutch Championships
Edward Gal and Totilas Conquer 2009 Dutch Championships
Adelinde Cornelissen, 2008 Dutch Dressage Champion
2005 Dutch Championships: Van Grunsven Star of Holland for 12th Time