2017 World Championships for Young Dressage Horses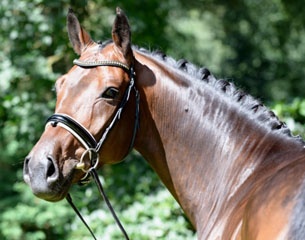 One day after the definite entry date, the Belgian Equestrian Federation announced the combinations that will represent Belgium at the 2017 World Championships for Young Dressage Horses in Ermelo, The Netherlands, on 3 - 6 August 2017. The Belgian federation faced numerous strong complaints and legal threats from lawyers after changing the selection criteria last minute.
The Belgian Equestrian Federation deliberately refrained from announcing the qualified horses, of which the nomination was supposed to be based on a clear cut selection procedure posted at the beginning of 2017. However, in June the federation announced additional criteria (including considering CDI scores) as well as exposed a discrepancy in the Belgian way of judging young horses and the FEI endorsed way.
Horse owners with a strong legal representation prevailed and got their horses qualified over a higher scoring horse (Laura Ashley) due to this muddled selection system. In case of a tie, it was up to the discretion of the Belgian dressage committee to pick the best candidate (choice between Miss Furstenball vs Miss Dior van den Bruel).
The Belgian horses going to Ermelo are:
5-year olds
Pauluis Larissa  - First-Step Valentin (by Vitalis x Fidermark)
Verreet Katrien - Miss Furstenball (by Fuerstenbal x Ritmeister)
6-year olds:
D'Hoore Brecht -  Go on Top (by Danone I x Welt Hit II)
Van Laer Nick – Quinto (by Quaterback x De Niro) 
7-year olds:
Pauluis Larissa – Barroso (by Bordeaux x Saros)
D'Hoore Brecht - Favian WH (by Zizi Top x Roman Nature)
Photo © private 
Related Links
Eurodressage Coverage of the 2017 World Young Horse Championships  
Belgian Dressage Committee Washes Hands in Innocence after WCYH Selection Mess
Altered Belgian Selection Criteria for 2017 World Young Horse Championships Stir Commotion