2017 Swiss Dressage Championships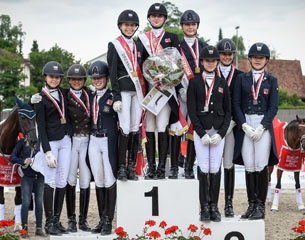 Pony rider Katarina Scheufele, junior rider Leonie Guerra, young rider Charlotta Rogerson, Under 25 rider Andrina Suter,  and Grand Prix rider Marcela Krinke Susmelj became the champions in their division at the 2017 Swiss Dressage Championships held at the Schänzli equestrian centre in Basel, Switzerland on 30 June - 2 July 2017.
Set in perfect weather conditions and beautifully hosted by Dorette Freiburghaus und Barbara Zurbrügg of the Basler Schänzli, the Swiss Nationals drew out a strong field with an especially large junior riders' division this year and a good field of 15 Grand Prix riders. One GP pair was missing, Anna-Mengia Aerne on Raffaelo va Bene, who had opted to compete at the CDI Fritzens instead. Young rider (and Under 25 rider) Estelle Wettstein was also absent due to an injured horse.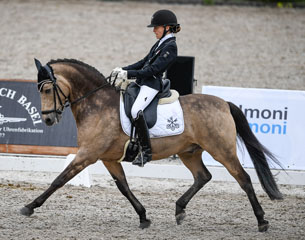 Of the five titles that were contested at the 2017 Nationals, four riders - Scheufele, Guerra, Suter and Krinke - were able to reclaim their 2016 earned title this year. 
In the pony division the Prangins' based Katarina Scheufele won the gold medal with a 2017.302 score total on her 16-year old buchskin Westfalian bred Now and Forever Feivel (by Now or never de Montmain x Millant). The pair won the team test with 72.051%, was second in the individual with 70.926% and won the Kur with 74.325%. Renee Stadler and the French bred German riding pony Dolce Vita (by Valido, formerly known as Oualidaluna) earned silver with 210.918 points, while new comer Tallulah Lynn Nater and the 9-year old German bred White Love B (by White Gold B x Dornik B), previously competed by German Helen Erbe, landed the bronze medal with 201.576 points.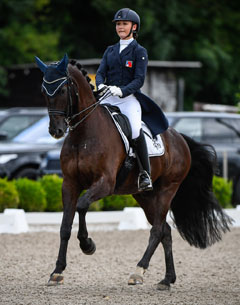 "My pony was absolutely amazing in Basel, I learnt so much over the course of these four days and even got closer to my pony," Scheufele told Eurodressage. "He gives 200% in the ring for me all the time. Each time I enter the ring it's like he is by my side holding my hand and we really work together. As I was Swiss champion last year I did really not except this year's title! I am so greatfull for my sister's special support as a groom and, of course, my trainers Ralf Hannover and Ted Jonker."
In the junior division Leonie Guerra and the 13-year old Danish bred Atnon (by De Noir x Akinos) were undefeated, winning the team test with 73.973%, the individual with 73.289% and the Kur to Music with 75.350%. With a total of 222.612 she won her second, consecutive national title ahead of Meilin Ngovan on her father Gilles's Grand Prix horse Dream of Night Fluswiss, a 15-year old Swiss bred stallion by Dream of Glory x Rubinstein. Ngovan scored 217.184 points for silver, while Ramona Schmid and her 8-year old Oldenburg mare Kelly Sue (by Dimaggio x Royal Dance) got bronze with 212.986 points.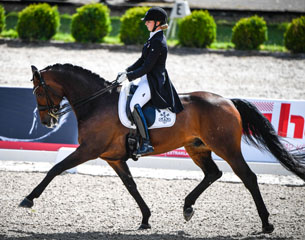 Only four young riders assembled in Basel for the title battle and routinier Charlotta Rogerson and her 10-year old Hanoverian Dylan (by Dimaggio x Lanthan) were no match for their peers and won gold with 217.377 points. The pair won all three rounds with 71.816%, 70.736% and 74.825%. Naomi Winnewisser and the 12-year old Hanoverian Furst Rousseau (by Rousseau x Weltmeyer) were the clear silver medalists with 208.287 points, while Elena Krattiger and the 12-year old Danish mare Ramia Lox (by Romanov x Victory) finished with bronze on 204.586 points. 
Rogerson is thrilled with the 2017 title but knew she could rely on Dylan, whom her family bought from Oliver Oelrich in Germany three years ago. She has stuck with Oliver and his assistant Ann Christin Wienkamp for training since then. "Dylan is a very sensitive horse, which, when he's totally with me, can be the most amazing performer, with a lot of activity, positive work attitude and eagerness to win," Charlotta told Eurodressage. "His extensions in walk, trot and canter are only one of many of his highlights rewarded with 9s by the judges. I knew, my horse and i had the full potential to become Swiss champion even though it's our first year at young rider level and therefore a lack of experience can lead to mistakes. My feeling in all three tests was amazing, as he was totally focused on me."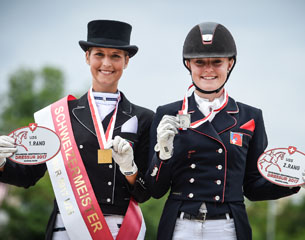 Just two pairs contested the Under 25 division and Andrina Suter and the 18-year old Swedish bred Axiom (by D-Day x Krevad) topped the board with 206.155 points after scoring 67.684% in the Inter II, 68.046% in the Short Grand Prix and 70.425% in the Kur to Music. Tamara Lucia Roos and her 13-year old Wurttemberger bred Amaretto XII (by Acordelli x Quick Step II) got silver with 202.401 points. 
"Axiom was perfect and in top shape," said Suter, who is coached by her mom Dominique and Hansruedi Geissman. "I felt confident during the program and despite small errors we delivered a convincing performance. My goal was to win the championship despite tough competition. Hard work and not assuming a win fulfilled that goal."
At Grand Prix level, long-time Swiss number one rider Marcela Krinke-Susmelj upheld that position in Basel and won gold again aboard her number one ride Smeyers Molberg, a 16-year old Danish gelding by Michellino x Rambo. The Grand Prix riders only did two rounds, the Grand Prix and Kur to Music, whereas the youth riders had to compete in three rounds to determine the medals. Krinke and Molberg won the Grand Pri with 74.760% and the Kur with 77.275% to finish on 152.035 points. Antonella Joannou and her 12-year old Swiss bred Dandy de la Roche (by Dressage Royal x Walt Disney) landed silver with two very consistent rounds that earned her over 70% and a total of 147.310 points. Home favoruite, Alexandra Zurbrügg and her 14-year old Hanoverian Get Time (by Rubin Royal x Graf Remus), earned bronze with 140.920 points. 
"We all felt really well at Schänzli. The organizers could read every wish on the riders' minds," said champion Marcela Krinke-Susmelj at the end of the show. "Molberg and also Sopran showed good form. With Aachen coming up I took a bit more risk in the freestyle with Molberg, that is why there was also a mistake in one of the pirouettes. But especially the first part of the freestyle was very expressive in my opinion. I'm very happy with the 77% I got."
Photos © Katja Stuppia
Related Links
Scores 2017 Swiss Dressage Championships 
Scheufele, Guerra, Winnewisser, Suter, Krinke Win 2016 Swiss Dressage Championships
Neuhauser, 2015 Swiss U25 Champion, Wettstein Stripped Of Title After Positive Doping Test
Korsch, Winnewisser, Wettstein, Aerne-Caliezi Win 2015 Swiss Dressage Championships
Winnewisser, Wettstein, Neuhauser, Aerne-Caliezi Win 2014 Swiss Dressage Championships
Huet, Winnewisser, Wettstein and Krinke-Susmelj Win at 2013 Swiss Dressage Championships
Wettstein, Lehmann, Krinke-Susmelj Win 2012 Swiss Dressage Championships
Surprise, Surprise: Markus Graf is the 2011 Swiss Dressage Champion
Corinth Did It Again at the 2010 Swiss Dressage Championships
Veronika Marthaler, 2007 Swiss Dressage Champion
Widmer, Reutimann and Wettstein, 2006 Swiss Dressage Championships