2017 PS Online Foal Auction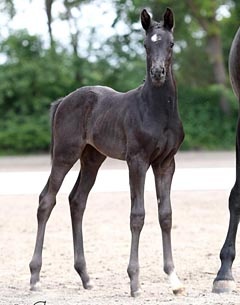 Paul Schockemöhle is launching the first online foal auction in Germany at ps-online.auction! On 15 June at 12:00, the PS-Online.Auction will begin. The experienced Schockemöhle team has put together a selection of 25 top-class foals. The youngsters are all offspring of Deckstation Schockemöhle stallions – from the Olympic champion Big Star to the winner of the Nurnberg Burgpokal finals Vitalis.
So here's how it works: From 15 June at 12:00, the foals can be seen on ps-online.auction – with videos, photo and description, breeding and veterinarian inspection report. Whoever wants to bid can just register in a few clicks and submit their bid. The bidder will be informed by e-mail or SMS (optional) if he is the highest bidder or if someone else has bid higher. The online auction ends on 25th June. For further information, please visit: ps-online.auction
If you have any further questions, feel free to contact the Deckstation Paul Schockemöhle in Mühlen, phone: +49-(0)5492-960100 or e-mail: deckstation@schockemoehle.com
Auction Foal in the Spotlight: Cat nr. 5: Vuitton
Born 28 March 2017 - Liver chestnut colt by Vitalis x De Niro x Wanderbusch II- Hanoverian registered
Breeder: Josef Bramlage - Foal Veterinary Report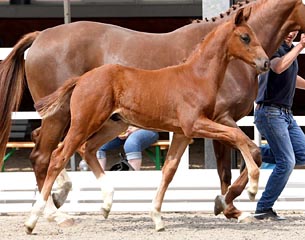 Han. line 418/Fichtenkunde, from which descends the esteemed sire Fabriano.
Auction Foal in the Spotlight: Cat Nr. 7: Totilas' Perle
Born 27 April 2017 - Black filly by Totilas x Jazz x ferro - Oldenburg registered
Breeder: Ralf Knauf - Foal Veterinary Report
Olympic genes! Great-grand-dam Fatinels is full sister of the revolutionary sire Rubinstein I (international dressage success with Martina Hannöver-Sternberg) and Rubinstein II. Closely related to the stallions Bordeaux (international dressage success.), Royal Angelo I and II, and the Olympic athletes Rembrandt 24/Nicole Uphoff, Ahlerich 2/Dr. Reiner Klimke as well as Amon/Annemarie Sanders-Keyzer (NL). Westph. line 454/Mieze (de Baey, Lemgo), from which descend 20 licensed stallions. 
For more information on the entire collection, visit ps-online.auction