2016-2017 KNHS FEI Pony Cup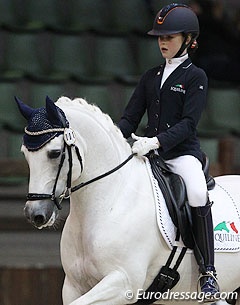 Dutch pony rider Micky Schelstraete did the double, winning two consecutive competitions in a row in the 2016-2017 KNHS FEI Pony Cup competition. After bagging the fourth leg in Vragender in March, Schelstraete and schoolmaster Elin's Noncisdador also won the fifth leg of the show circuit in Aerdenhout, The Netherlands, on Saturday 29 April 2017.
Once again Schelstraete was the only combination to score over 70% in this KNHS FEI Pony Cup competition. However, it must be noted that a large Dutch delegation was competing at the CDI Saumur in France the same weekend. 
Schelstraete and Elin's Noncisdador (by Nostradamus) scored 71.62% for the victory, edging out Evi van Rooij on King Staverhof's Jango with 68.85%. Lilli van den Hoogen and the very experienced, multiple team pony Flamenco Star were third with 68.03%.
"The test really went well. I think it's my highest score so far," said the 12-year old who also competes in show jumping. "The trot was much beter and I could longer keep with making Sco go well. I train a lot with Marlies van Baalen and the squad training sessions with Monique Peutz, which go really well. Both help a lot with the things I find hard, like the turns on the haunches. It's nice that Sco has so much experience, I learn to have a better feeling and to ride better on him."
One more qualifier will be held on 13 May 2017 in Zuidwolde, before the 2017 KNHS FEI Pony Cup Finals in Roosendaal on 1 July 2017. 
Related Links
Schelstraete Tops the Board at Fourth Leg of 2016-2017 KNHS FEI Pony Cup
Luiten and Movie Star Win Third Leg of 2016-2017 KNHS FEI Pony Cup
Brandy Bos Wins First Leg of 2016-2017 Dutch FEI Pony Cup Competition