Finnish Dressage News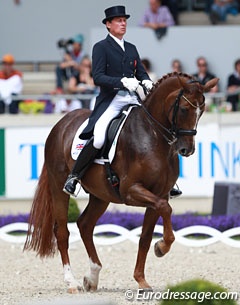 Finland's senior Grand Prix team rainer for Seniors, top international dressage rider and trainer Emile Faurie, has stepped down from his position as the Team Trainer for Finland. He has held the position since 2013.
The agreement has been terminated in mutual understanding with the Finnish Equestrian Federation. Emile will, however, remain as the trainer and training consultant for Top Dressage Finland (TDF). Thus, under TDF the top Finnish senior rider will continue to benefit from his top class training.
"The decision has not been an easy one to make," said Emile, "It is entirely due to new riding obligations here in the UK and abroad.  My priority is my International competition schedule and the impossible traveling commitments I have to undertake has made the decision for me!"
Emile has made lifelong friends in Finland and feels a great deal has been achieved together. This relationship will very much continue but with Emile heading up the training for TDF. A lot of the riders will also continue to base themselves in the UK with Emile for further training.
Photo © Astrid Appels
Related Links
Emile Faurie Appointed Finnish Grand Prix Team Trainer 
Weekend Fun, New Grand Prix Ride for Emile Faurie
Emma Kanerva Returns to Germany