American Dressage News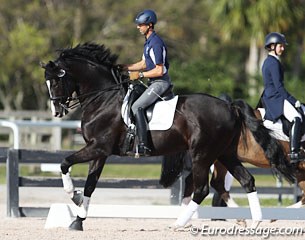 The United States Dressage Federation (USDF) is pleased to announce Willy Arts and Michael Bragdell as the instructors for the 2017 USDF Sport Horse Prospect Development Forum.
This year's event will, again, feature a live forum approach and provide a correct, fundamental system for starting sport horse prospects. The program is for anyone with the goal of developing a consistent training foundation for sport horse prospects as they progress from in-hand to under-saddle, and eventual competition.
This year's forum will be held May 13-14 at Isabella Farms in Cypress, TX. Trainers and horses will be identified to participate through a selection process, and will work with the instructors throughout the forum. The forum environment will also engage auditors, consisting of breeders, trainers, and owners throughout the sessions, in an interactive setting Participants and auditors will also learn the necessary tools to be able to select and evaluate sport horse prospects before purchase, as well as the key elements needed in a trainer.
"We are so excited that this year's USDF Sport Horse Prospect Development Forum will be held at Isabella Farms. This will be the first year we have held the forum in this part of the country. We are also very excited that Michael Bragdell has joined our faculty and will be presenting with Willy Arts. These forums are a great educational opportunity, and are spreading correct training of the young dressage prospect to more and more people every year. We look forward to another great weekend, with wonderful horses, riders, location, and presenters," stated Kristi Wysocki, USDF Sport Horse Committee Chair.
Photo © Astrid Appels
Related Links
Bragdell and Hemmingway Win 4-Year Old Division at 2012 U.S. Young Horse Championships
Stenagers Welina Reclaims Title, Named Grand Champion of the 2016 Devon Breed Show
Selten HW, Winsor and Cabana Boy Win 2008 U.S. Young Horse Championships
Willy Arts Severely Injured in Carriage Accident
Hassler and Arts to Present the 2016 USDF Sport Horse Prospect Development Forum