2017 CDIO Wellington
The 2017 FEI Nations' Cup show circuit kicked off in Wellington, Florida, on Wednesday 22 March 2017. With a limited amount of countries competing, the CDIO format in Wellington is different from the European Nations' Cup events.  The Senior teams consist of Canada, USA, and Spain. Individuals competing include riders from Australia and Guatemala. Riders can represent their countries in Grand Prix as well as in the Small Tour.
After the Grand Prix and Prix St Georges Team Canada has taken the lead with particularly strong performances of the Irwin couple at small tour level. The American team follows in second position. 
In the CDIO Grand Prix American Olivia LaGoy-Weltz (USA) and her own Lonoir, a 2004 Danish Warmblood gelding (by De Noir x Loran) dominated, earning a leading score of 72.940%.Lisa Wilcox (USA) and Galant, a 2006 Belgian Warmblood (by Escuro) owned by Jacqueline Shear, earned the second highest score with 70.560%. Settling with the third highest score was Canada's Megan Lane and her own Caravella, a 2001 KWPN mare (by Contango x Riverman) earning 70.080%.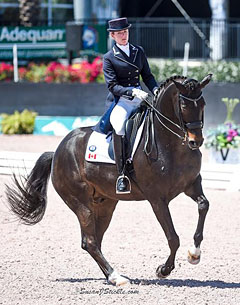 The Prix St. Georges CDIO 3* saw an exceptional lead for Canada, with Tina Irwin (CAN) and Laurencio, a 2007 Oldenburg gelding (by Laurentio x Donnerhall) owned by Irwin, earning a score of 74.026%. Husband Jaimey Irwin (CAN) and Donegal V, a 2008 KWPN gelding (by Johnson x Gribaldi), owned by Team Irwin Supporters Group, earned a 72.921%. The third highest score went to Esther Mortimer (GUA) and Adajio, a 2004 Hanoverian gelding (by Alabaster x El Dorado) owned by Sue Schramayr, with 69.053%.
The 2017 CDIO Wellington Nations' Cup continues on Thursday 23 March with the Grand Prix Special CDIO 3* after which the Nations Cup Team medals will be decided.
by Carly Weilminster, edited by Eurodressage - Photos © Sue Stickle
Related Links
Scores 2017 CDIO Wellington
U.S. Teams Selected for 2017 CDIO Wellington
Canadian Team Announced for 2017 CDIO Wellington