Hanoverian Breeding News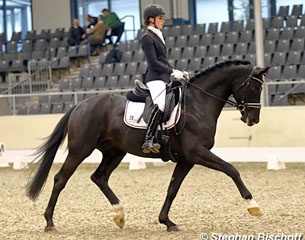 The 4-year old Devonport and 5-year old Don Martillo became the high scoring horses at the 2017 Stallion Sport Test held for the first time in Verden, Germany, on 2 - 4 March 2017. The re-scoring of Don Martillo raised questions about the consistency of the judging at this brand new sport test.
The Stallion Sport Test is a new, mandatory phase for stallions licensed in Germany to obtain and keep their licensed status for breeding. 
Seventeen 4-year olds and eight 5-year olds gathered in Verden, four of them dropped out during the test (Barrique, Herzensbrecher, St. Louis Blues, Christ's Clooney) and three did not achieve the necessary score minimum of 7.5 (Don Romanov, Rey du Soleuil, Donauschall). The judging panel for the Verden sport test is identical to the panel in Munster-Handorf. Philip Hess was the guest judge rider. 
The 4-year old high scorer was Devonport (by Dancier), who received 8.5 for trot, 8.8 for canter, 9.0 for walk, 8.0 for rideability and 8.8 for general impression. He totalled 8.78 points. The second highest scoring stallion was For Cruise (by Furstenball) who got a total of 8.43 points after scoring 8.3 for trot, 8.0 for canter, 8.7 for walk, 8.6 for rideability and 8.5 for rideability. Other renowed participating stallions were the KWPN bred Inverness P (named Furst Jazz in Germany) who got 7.77 and For Romance II (by Furst Romancier) who got 7.79 points.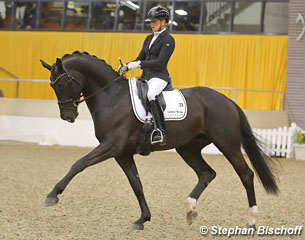 In the 5-year old division the current Bundeschampion Don Martillo was the top scorer. The dark bay Hanoverian stallion by Don Juan de Hus was already tested two weeks ago in Munster-Handorf and earned 8.8 there. Owner Gut Lonken was not pleased with those points and the team expressed some dissatisfaction there. Don Martillo did the 14-day suitability test in Schlieckau last September and now has to do the mandatory sport test twice, so he was also sent to Verden. According to the judges the talented dressage horse had remarkably improved in his basic ground quality in a two-week time period and now scored a total of 9.52 points. he got 9.4 for trot, 9.0 for canter, 10 for walk, 9.6 for rideability and 9.6 for general impression. In Munster those scores were 8.8 for trot, 8.9 for canter, 9.5 for walk, 7.5 for rideability and 8.8 for general impression. Aside from the fact that Don Martillo is a high quality dressage stallion, the fluctuation and inconsistency of the scores puts the sovereignty of the testing panel in slightly shaky grounds. 
The second highest scoring 5-year old in Verden was Bon Coeur (by Benetton Dream) who achieved 8.90 points. The stallion got 8.8 for trot, 9.0 for canter and walk, 8.8 for rideability and 9.0 for general impression. The 2015 Westfalian Licensing Champion Borsalino (by Boston) earned a total of 8.87 points. 
Photos © Stephan Bischoff
Related Links
Destacado, High Scorer in Second 2017 Stallion Sport Test in Munster
Bonds, High Scorer at 2017 German Stallion Sport Testing in Munster
Von Depka Acquires Co-Ownership of Don Martillo