Belgian Warmblood Breeding News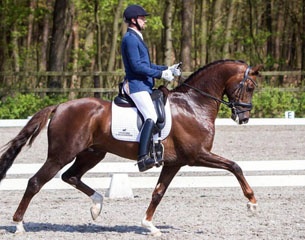 Eight dressage bred stallions will be participating in  the 2017 Belgian Warmblood Stallion Licensing. A collection of 114 candidates are entered to be presented for licensing.
The 2017 Belgian Warmblood stallion licensing is divided into several phases. During the second phase at equestrian centre Azelhof in Lier on 19 - 21 January 2017, the 3 and 4-year old colts will be assessed. Five dressage bred colts are entered for this second phase.
The older stallions will appear in the third phase in Hulsterlo on 16 - 18 March 2017; three dressage bred colts are registered for this phase.
The dressage bred colts for the 2017 BWP Licensing are:
Jackson Begijnhoeve (by Apache x Flemmingh) - Owner: Stoeterij De Begijnhoeve
Elton (by Escolar x De Kooning) - Owner: Roshoeve - van den Oetelaar
Flynn (by Fahrenheit x Sir Oldenburg) - Owner: Roshoeve - van den Oetelaar
Ons Noud (by Firestone x Trento B) - Owner: Roshoeve - van den Oetelaar
Norton van den Dries (by For Romance x Quaterback) - Owner: Kevin Laevens
Helsinki (by Bojengel x Jazz) - Owner: Serge Pais
Haendel A (by Charmeur x Ferro) - Owner: Jamie Goossens
Genesis (by Jazz x Silvano N) - Owner: Stoeterij de Begijnhoeve
Photo courtesy Begijnhoeve
Related Links
Naxcel V Named Champion of the 2016 Belgian Warmblood Stallion Licensing
Mac Donovan, Dressage Champion of 2015 Belgian Warmblood Stallion Licensing
One Dressage Stallion Approved at 2014 Belgian Warmblood Stallion Licensing
Kasanova de la Pomme, Champion of the 2013 Belgian Warmblood Stallion Licensing