British Dressage News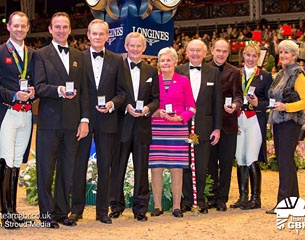 Islay Auty, Fiona Bigwood, Spencer Wilton, Alan Davies and Richard Waygood were decorated with a 2016 BEF Medal of Honour at the 2016 CDI-W London on Saturday 17 December 2016.
On an evening that welcomed equestrian Rio 2016 Olympic and Paralympic medallists to the Grand Hall at Olympia, The London International Horse Show, to celebrate with fans their fantastic achievements this year, the British Equestrian Federation (BEF) took the opportunity to recognise members of the equestrian community for their outstanding service.
The BEF Medal of Honour, which is presented in recognition of the outstanding service given to equestrian sport, was this evening presented to nine recipients. The presentation of awards was made by BEF Director of International Affairs, Dr Tim Watson. Dressage personalities dominated the awards this year.
The dressage recipients:
Islay Auty is recognised for her dedication to British dressage and her outstanding commitment and service to equestrianism across the different youth programmes, for the last twenty years.
Fiona Bigwood and Spencer Wilton both received their medals for their outstanding performances in Rio as part of the silver medal-winning dressage team and for their contribution as ambassadors to equestrian sport
Groom to 2016 Olympic champion Valegro and team silver medallist Nip Tuck, Alan Davies received his medal in recognition of his unfaltering dedication, pride and commitment to the equine industry throughout a number of disciplines as both rider and groom
Richard Waygood was recognised for his management and leadership of the GB dressage team over the past seven years.
Photo © Jon Stroud
Related Links
Valegro Retired from Sport in Emotional Farewell Ceremony at 2016 CDI-W London
Hester Wins and Valegro Bows Out on a Night to Remember at 2016 CDI-W London
Photo Report: Valegro's Farewell at the 2016 London Olympia Horse Show
Photo Report: Valegro's Farewell at the 2016 London Olympia Horse Show