History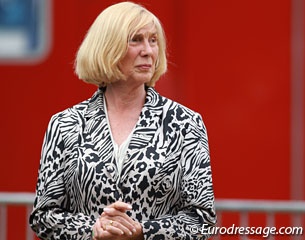 It doesn't matter if in private discussion, different internet forums, social networks or certain publications on equitation, the cry for the "Good Old Times" in dressage is heard regularly. It becomes even louder when international dressage suffers from unpleasant news, may it be bleeding mouths, neurotic horses or judging discrepancies.
I admit I have sometimes cried for these proverbial good old times myself; when horses had less quality, less technical perfection and when a high 70s score meant something remarkable. Or when horses' frames were closer to the ideal, when extended trots showed clear diagonals, horses had to execute a schaukel and walk pirouettes in the Grand Prix classes and their heads were more visible without those gigantic, cranked noseband.
However, it is starry-eyed and one-way thinking to assume that a few decades ago dressage was a better and a more horse-friendly sport in general. The cry for the so much better past can be heard in all aspects of life and my 89-year-old grandmother has already heard it in her far-gone youth. It seems a natural habit of people to glorify a past most of us have never really experienced and which we can only know from books and film documents.
I do not exclude myself because at age 39 I have missed most of what we mean when we speak about the "good old times" in dressage. My attempts to make up for it by reading, researching and extensively interviewing time witnesses whom some unfortunately have left us in the meantime, can never replace first-hand experience.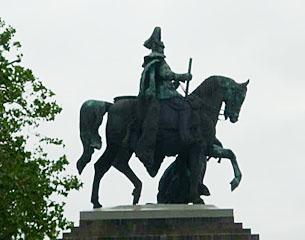 Still the question fascinates me if that past, which all these people are dreaming of, was actually that much better and why. I began to research this and took my first interviews in the late summer of 2016, but it will still take some decent time until I have covered breeding, judging as well as the general circumstances of training and sport in a hopefully omniferous way.
However, at the end of October I had the chance to attend the more than 120 minute lasting lecture by retired German I-judge Angelika Frömming who made herself a name internationally as a judge with a special interest for the young dressage horses competitions. Less known beyond the German border, Frömming is a remarkable expert of the history of equitation, in particular dressage. There might not be many around with such extensive knowledge of the different training approaches, struggles and fights throughout Europe regarding the art of riding, horse sports and judging systems. Now in her 70s, Angelika Frömming has had the advantage of having observed with a keen interest all the changes that happened the past 50 years and her profound knowledge allows her to judge on it in a fair way.
While it is not my aim to repeat Mrs. Frömming's entire lecture here, I want to share with the readers a few parts which are food for thought, especially for those who belong to the faction that likes to glorify the past.
Who doesn't know the past, cannot understand the present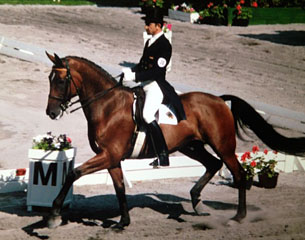 With this fitting quote by riding-master Günther Festerling Fromming opened her lecture on the evening of 21 October 2016. Because nothing is more true, the subject "History of Equitation" is still part of the apprenticeship of future riding instructors in Germany. During their professional two-week school education they have to learn about the evolution of training methods, hear famous names from Grisone to de la Guérinière and their own Steinbrecht as well as more recent representatives like Klimke, Neckermann and Linsenhoff. In the past Angelika Frömming was their teacher in the rooms of the German Riding School in Warendorf. Now Thies Kaspareit is the head of training at the German federation, and he too attended the lecture on that October evening.
"Riding has always been and still is a product of zeitgeist and current affairs. It started with the horse being a war weapon and therefore a symbol of terror and fear. At that time there were discussions if riding had been the art of war or an art in itself. Nowadays we have this discussions if dressage is sport or art," said Frömming. 
She did not shy away to promptly mention the increasing presence of animal welfare and social acceptance in horse sports, quoting Prof. Dr. Peter Kunzmann of the Hanover Veterinary University. He said, "who still wants to ride tomorrow, needs the acceptance of society." Words which are pretty much directed to certain very disputable training approaches which have brought dressage sport on the agenda of animal welfarist.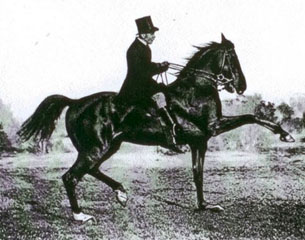 Yet Frömming stressed that training methods have been and still are all more or less an area of conflict between praise and punishment. "Today we have extremes, for example between subjugating horses by pure violence and not correcting the horse at all. What should be the aim is a friendly partnership between the horse and his rider. So, you see: There are enduring discussions about the right way, as there were through the centuries." Frömming pointed at a problem which Greek master Xenophon, who lived centuries before Christ, had already recognized and therefore he advised riders "never to lose his composure." Angelika added, "this problem has not changed. Horses are sometimes still treated way too unjustly, even though with De la Guérinière the change from reproach towards praise took place."
"Dressage Horses Have to be Universal Genius"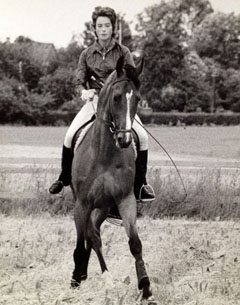 Frömming descends from a generation of riders for whom it was natural to compete in different disciplines before specializing in one. Today she sees not only an early specialization of the riders, but the very same way with the horses. "The specialization is already obvious at the mare tests. During the apprenticeship to become a professional we always preach to give the horses and riders a broad basic training, but it is not happening often enough. Until the late 1960s an obedience jump was required in dressage classes up till S-level. I remember when Rosemarie Springer was eliminated at a German championship due to the failed jump after her dressage program. It caused heated discussions, but in the end the elimination remained valid," the bubbly former Grand Prix rider reminisced. Whereas many dressage horses today might not experience this desired broad basic training for which German Ingrid Klimke is famous, but according to Frömming "dressage horses in competitions should still be a universal genius in some way."
Angelika addressed something very important and easily forgotten by those critics who complain competitive dressage sport is not art-like enough, even though they never shown in a dressage class themselves. "When I made my amateur riding instructor exam, I went in the 70s to the renowned von Neindorff riding institute in Karlsruhe. There I saw many different horses. One could show an impressive air above the ground, another cantered beautifully on the right lead, but struggled on the other. Then again there was a horse which could piaffe very well, but had trouble with other movements. To cut a long story short: When we want to compete, our horses need to be more complete. They ideally need to be equally trained in all three gaits and show the required movements all more or less on a high level or they won't succeed. They truly have to be a universal genius."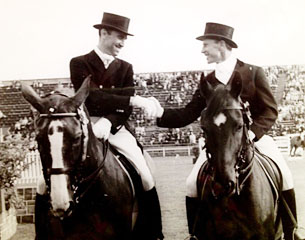 With that Frömming truly hit the nail on the head. However she does not consider art and sport different disciplines. "These discussions if dressage sport is more art or sport started in the 1960s. Ideally both come together in dressage competitions like in a competition for classical music. In principle dressage should remain art." The critique repeatedly heard on the sport most often comes from people who never experienced what it means to ride a whole program, executing required movements at a certain spot. They are oblivious to the challenge that lies within.
Specialization can first be seen in the ever-growing pony sport classes with its "program-taxis", which is how Frömming called experienced ponies taking care of inexperienced riders. "The principle "young rider-experienced horse" is nothing new. Xenophon said so and I was lucky enough that when I was 16 my father bought me the elder Grand Prix-horse Brokat, a Holsteiner on which you had to do a ladies' split. Such horses are very good school masters, but you still have to ride them or you end up like me once when in an L-dressage Brokat showed one-time-changes across the whole diagonal and me a most embarrassed back-seat-driver on his back."
Changes in Dressage Sport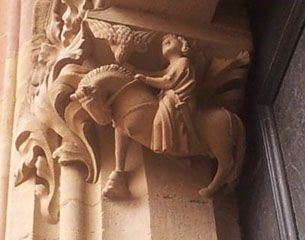 Angelika Frömming has not only followed dressage sport and judging for many decades, she has also literally travelled the world as an I-judge. On her journeys she often came across "ancient relics which show that the rollkur is absolutely nothing new." She showed, among others, a photo of the entrance portal of the dome in Worms called "The tamed horse," featuring an artistic rendering of a horse totally overbent. "Horses ridden in such manner can only see 10,000 grains of sand. LDR is considered the non-aggressive variation of rollkur. But there must have been a point in time in these horses' training in which the rider has pulled at the reins to get the head in that position. The horses then get used to it, they simply give up, "learned helplessness" is what it is sometimes called," she stated.
Frömming indicated that only with the Amsterdam Contract of 1997 animals have been declared "sensible entities". She commented that "it is incredible that this only happened a mere 20 years ago. The main problem with animal welfare is that it is a social problem. The FEI has about 135 members and animal welfare is considered very differently in the single countries. But still, 'bad habits disappear slowly'. It is important that the development towards a more horse-friendly equestrian sport is recognized." She added that at the Bundeschampionate this year three cameras at the warm-up-ring for the dressage-test for young horses had been installed. Thies Kaspareit explained that their intention "was not been to accuse somebody, rather to protect riders against unjustified accusations."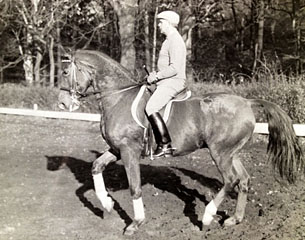 Frömming did not synthesize the changes which took place in dressage sport to the indirect approval of animal-welfare-relevant training methods, but she also mentioned those changes which took place in tack, breeding and judging. By showing a saddle from the renaissance times which high cantles, she told the audience "that this kind of seat prosthesis – how former national trainer Holger Schmezer called these saddles in all his clinics - is nothing else than we see nowadays with these modern dressage saddles with huge knee rolls. The latter are appalling stuff which hinder the rider to follow the horse's movements smoothly with elastic hip joints. Even more, they influence the feeling on a horse. Sometimes people try out auction horses in such saddles and when they come home and use a saddle with flat knee roles they ascertain that they can hardly sit the movements."
Changes in breeding enables that a breathtaking horse quality can be seen in our times. However "a too uphill canter or too much shoulder freedom are dangerous. Today we have ongoing discussions if we should accept that a horse with an enormous uphill canter cannot show a clear three-beat-rhythm anymore. In my opinion everything extreme should be rejected. The original idea of the young dressage horse classes has been to improve these horses' basic training. Unfortunately it developed sometimes into a quest for the 'spectacular' nowadays," she stated.
On the other hand the modern, refined type of horse "favours our ladies who in the past often had male trainers helping them to train their mounts." The tremendously increased quality of horses' conformation and basic gaits also means that the quality of training sometimes plays a less important role. "Until the 1970s horses with faulty conformation, but outstanding rideability could still be successful," she remarked. Frömming showed Dr. Reiner Klimke's 1974 double world champion Mehmed, a Hanoverian by the jumping sire Ferdinand, who even back then was considered a very ordinary horse. "This development is somehow a pity," she regretted. For a well trained ordinary horse it is much more difficult to be successful in the 21st century than in former times.
Still "the problem of the Spectacular is not a new one," she confirmed. A picture comparison between a world famous dressage of our times and a photo of the English trainer James Fillis who rode horses with artificial gaits at the beginning of the 20th century and who influenced the "Russian School" as head of St. Petersburg cavalry institute. Her comparison revealed little difference in the irregular, but spectacular way to trot both now and then. "Sometimes we, judges, hear complaints that we do not punish for example the "one-leg-support" in trot extensions. Of course you can easily see it on photos or in slow-motion, but with naked eye it is almost impossible to recognize. You can hear it, yes, but we are not allowed to judge what we hear, only what we see."
In this relation Frömming assessed that "we Germans did and sometimes still ride our horses too much forward. Then I think of General L'Hotte's famous quote ""Calm, Forward, Straight," which is similar to Steinbrecht's, but L'Hotte's includes the word 'calm' and this we should think of. First allow the horse to find its rhythm and then develop the gaits based on it. This is much better!"
Frömming believes we are on the right way being responsible for the welfare of the horses and improve and refine the way of working with them. Horses served us for centuries, now it is our turn to take care of the horse by training and managing it appropriately according to the modern day welfare standards in order to obtain this unique feeling of being united with them.
Text by Sike Rottermann - Photos © Rottermann, private, Elisabeth Weiland
Related Links
Fromming & Stammer Seminar 2016: A Get-Together of Biomechanics and Classical Dressage Training
Fromming and Hinnemann: The Training Scale in Theory and Practise at Pineland Farms
Angelika Fromming: Open Scoring and Expert Commentary to Popularize Dressage
Angelika Fromming: Half a Century of Dressage
Q & A Session on the State of Dressage with I-Judge Angelika Fromming
Classical Dressage Training Meets Kinematics