What's Happening in the Dressage World?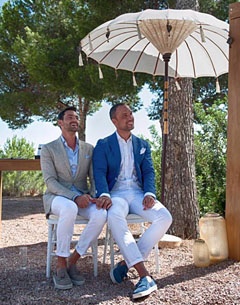 Dutch Grand Prix rider Tommie Visser and his Belgian based Dutch partner Rob van Puijenbroek got married in Ibiza on 10 September 2016. The couple wed in a small, private ceremony which was the centre of an entire celebration weekend.
All guests wore white outfits. The Van Puijenbroek family owns the major Dutch newspaper De Telegraaf, while Rob owns and operates the beautiful dressage and breeding farm De Begijnhoeve in Retie, Belgium.
Dr. Kerstin Klieber celebrated her 50th birthday on 3 September 2016 during the Bundeschampionate where her horse Daytona Platinum. In partnership with Stefan Sandbrink, Klieber runs a breeding, training and sales facility in Meinersen. She discovered, for instance, licensed stallions For Compliment, Decurio, Farrell, Fiderdance and Sandbrink and sold stallion Flambeau to Tinne Vilhelmson. Klieber often buys high quality foals at the foal shows and championships and can be seen scouting for and marketing her horses all over the dressage world.
On the same day, Wilhelm Weerda, president of the Oldenburg breed society, celebrated his 75th birthday. Weerda was the brain power behind the integration of the Oldenburg Elite Mare Show and Oldenburg regional championships in Rastede. In 2011 Weerda became the recipient of the Gustav Rau medal in silver, handed to him by the German Equestrian Federation.
You have to check out the video that I embedded on the right. I bumped into it by accident and it's a British girl giving an extremely detailed review of the Breyer model horse of Valegro which she bought. I thought it was quite special (and a bit funny) how passionately she describes the model horse and even compares it to Salinero. Cute video! Don't miss it.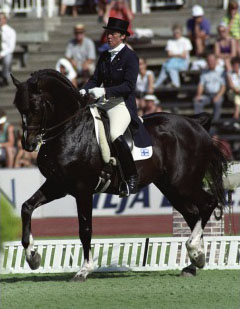 On Tuesday night 6 September 2016 the renowned Danish breeder Georg Møllebjerg passed away at age 87. Møllebjerg was known for owning sire May Sherif and breeding stallion Matador, who became world famous under Kyra Kyrklund, finishing 5th at the 1988 Seoul Olympic Games and silver at the 1990 World Equestrian Games. Georg ran a small brood farm, Stutteri Bakkely, in Sinding, Denmark. Georg leaves behind his wife Klara, two daughters and two sons.
Dutch 2015 and 2016 FEI pony Champion Daphne van Peperstraten has acquired a new horse with which she will continue her dressage career as a junior rider. Van Peperstraten took over the ride on Arthur van Rooij and Marita Smits' Dutch warmblood gelding Cupido (by Johnson x Duko x Galopin). Van Rooij and Cupido were the 2016 Dutch Championships at M/S-level.
Tidningen Ridsport reported that Swedish dressage riders Pether Markne and Per Sandgaard are selling their equestrian yard Arphus Gard in Strangnas, Sweden. The couple wants to move closer to the Denmark and relocate to the Skane area, where they want to buy a house near the beach and rent stables in an equestrian facility instead of owning their own yard. "I work a lot abroad and I want to continue building my academy. I think It will be easier if we are based in Skane. We'll also be closer to Per's family and friends in Denmark," Markne commented.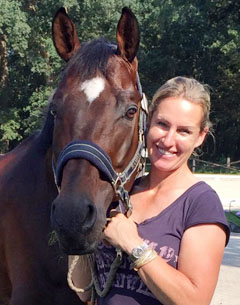 Bernadette Brune's Trakehner licensed stallion Kasimir TSF (by Ivernel x Charly Chaplin x Arogno) has returned home to Gestut Brune in Westerstede, Germany, after a brief stint with German young rider Sophie Kampmann. The 14-year old bay stallion was leased to the Kampmann family as Sophie's schoolmaster, but the contractual duties were not being fulfilled and Brune brought the stallion back home.
Belgian Jorinde Verwimp lost her small tour horse Dayano B to colic. The 8-year old Dutch warmblood stallion (by Lord Loxley I x Kassander) suffered from a colic attack and has been operated on. Initially he came out of recovery strong, but developed complications a day later and did not survive. "He was a real fighter, did everything what he could," said a saddened Verwimp. "It's gonna take a while before i'm over it and I wil never forget him. He was by far the sweetest horse I've ever had. He's gonna be watching over me together with Tonki (ed.note: Tonkawa SD, Verwimp's FEI pony)."