2016 U.S. Young and Developing Horse Championships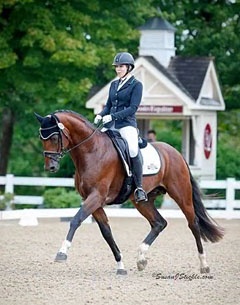 Some of the finest evolving American dressage horses received quite the praise during the first day of the 2016 U.S. Young & Developing Horse Dressage Championships on Thursday 25 August 2016. Justine Wilson and Hero BHS hold a small lead in the four-year-old division. Christian Hartung and Desario have a slight edge in the five-year-old division, and Adrienne Lyle and Horizon are on top of the Developing Prix St. Georges Horse division. Today's tests counted 40% towards their overall scores.
Hero BHS Wins Four-Year-Old Preliminary Test
As someone who began competing in dressage three years ago, Justine Wilson (Beach Island, S.C.) made quite the impression with her own Hero BHS. Wilson and the KWPN stallion (by Cover Story x Prestige CDL) showed lovely temperament and energy throughout their test. As a result, they won the Four-Year-Old Preliminary Test to lead the division with an overall score of 8.280.
"I had a very reliable horse for a four-year-old stallion. I got 100% of what I asked for today. I definitely had a partner in there today, and it was a nice feeling. The judges loved his trot, but they want to see a little more power from behind," said Wilson.
Barely trailing Wilson is Craig Stanley (Madera, Calif.) with his own Habanero CWS (by Idocus x OO Seven). He and the KWPN gelding had wonderful expression in their walk and showed off a quality canter for a score of 8.220.
"It was nice for the wait to be over and get into the ring. When he got into the ring, he stood up to the task and did his job. However, there is always room for improvement," said Stanley.
Nadine Schwartsman and Harvard R (by Sir Donnerhall x Farrington), Nancy Weaver's KWPN gelding, are in third with a score of 7.980.
Desario Wins Five-Year-Old Preliminary Test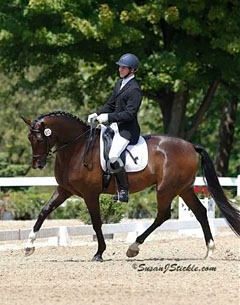 Christian Hartung (Vacaville, Calif.) and Desario, Christiane Noelting's Oldenburg gelding (by De Champ), wowed the judges to win the USEF Five-Year-Old Preliminary Test to lead the division. The combination executed lovely trot work and showed clear rhythm in the canter for an overall score of 8.68.
"I wasn't quite sure how he was going to do after three days of travel. However, he hasn't had a test quite like this before so I'm quite happy," said Hartung.
Karin Persson (Bedford Hills, N.Y.) and her own Giuliano B (by Bon Bravour x Elcaro) entered the ring determined to achieve high marks. They succeeded for a score of 8.52. She and the KWPN gelding flowed beautifully in their trot transition from "A" to "F" and blossomed out of the top-line in the walk to help with the high score.
"I'm very happy with my test. He was relaxed and energized. I don't have any complaints. He seemed perfect; he's a competitive horse and loves it [competition]," said Persson.
Cyndi Jackson (Glendale, Ariz.) and Sir Amour, Schuttler Stables' Hanoverian gelding (by San Amour x De Niro) and a 2015 PSI Aucion horse, trail in third place with a score of 8.020. The growing combination acclimated to the pressure for a pleasing test.

Lyle Returns to the Show Ring to Win Developing PSG Horse Test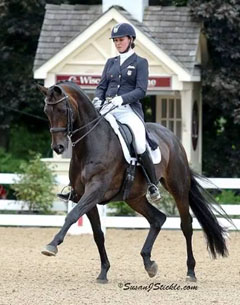 After a two year break from championship competition, former U.S. dressage team member Adrienne Lyle (Ketchum, Idaho) and Horizon assembled a brilliant test to win the FEI Prix St. Georges Test. They lead the division with a score of 72.500%. Her and Elizabeth Juliano's Oldenburg mare (by Hotline x Don Schufro) got a confidence boost with the good score, which was one of the goals for these championships. Juliano acquired Horizon at the 2010 PSI auction in Germany. After the retirement of her Grand Prix horse Wizard, Lyle has been out of the limelight and slowly working on developing young talent for the FEI levels.
"I was super happy with her today. I do not think I could ask for more. We have been out of the ring since March with our last qualifying competition. You train hard and you try to be very picky at home and hope you are not rusty when you get in there. She was just spot on for me. It was like she was keeping it up all summer," said Lyle.
Although spooked in the beginning of the test, Lisa Wilcox (Loxahatchee, Fla.) and Gallant Reflection HU, Horses Unlimited Inc.'s Zweibrucker stallion (by Galant du Serein x Rohdiamant), regained their focus for a consistent test. They sit in second place with a score of 68.947%.
"I was very happy today. I had an opportunity to bring him out one more time in Florida, at a schooling show, and was very happy where we were, so I felt pretty prepared for today," said Wilcox.
Cesar Parra (Whitehouse Station, NJ) and Fashion Designer OLD, Martin Sosnoff's Oldenburg bred Faustinus offspring, finished third with 70.658%
Photos © Sue Stickle
Related Link
Scores 2016 U.S. Young & Developing Horse Championships