Spanish Dressage News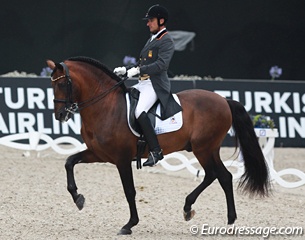 The Spanish equestrian federation with Luis Lucio as dressage technical director and Rafael Soto as team trainer have selected the team that will represent Spain at the 2016 Olympic Games in Rio de Janeiro, Brazi, on 9 - 15 August 2016.
Spain held its final Rio Olympic observation trial at the 2016 CDIO Aachen, where long-time team member Jose Daniel Martin Dockx and Grandioso had to prove form after missing out on the 2016 spring show season due to an injury. 
Four more Spanish team candidates had to battle it out for the fourth spot. They were Claudio Castilla Ruiz (Alcaide), Morgan Barbançon Mestre (Girasol), Borja Carrascosa Martinez (Wonder) and José Manuel Lucena Estrada (Wolk).
The die has now been cast and the Spanish Olympic team has been announced:
Beatriz Ferrer-Salat - Delgado
Severo Jurado Lopez - Lorenzo
Jose Daniel Martin Dockx - Grandioso
Claudio Castilla Ruiz - Alcaide
The reserve is Borja Carrascosa Martinez with Wonder.
Photo © Astrid Appels
Related Link
Eurodressage Coverage of the 2016 Olympic Games