German Dressage News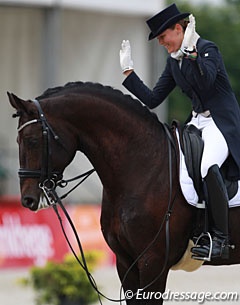 Under 25 riders from all over Europe will be gathering at the 2016 CDIO Aachen on 13 - 17 July 2016 for an Under 25 tour of competition at this highly prestigious event.
The CDIO Aachen has been hosting an Under 25 tour since 2010, of which the inaugural edition was won by Belgian Julie de Deken on the Westfalian gelding Fazzino (by Florestan x Rivellino xx).
Except for two Swedish riders, the entire group entered for Aachen also competed at the 2016 European Under 25 Championships in Hagen one month ago.
The competitors for the 2016 CDIO-U25 in Aachen are:
Tatjana Svehla - Donaublick (AUT)
Timna Zach - Simply Red (AUT)
Laurence Roos - Fil Rouge (BEL)
Julie Dankau - Overgaards Lawell (DEN)
Sille Engermann - Darius (DEN)
Nicoline Graff - Sandagergaards Lorentino (DEN)
Juan Matute Guimon - Quantico (ESP)
Alex Hardwick - Donauwein (GBR)
Bobby Hayler - Valentino (GBR)
Ryan Todd - Charlex Eskebjerg (GBR)
Florine Kienbaum - Doktor Schiwago (GER)
Juliette Piotrowski - Sir Diamond (GER)
Charlotte Rummenigge - Fidelio B (GER)
Polina Afanasieva - Flanagan (RUS)
Lina Dolk - Biggles (SWE)
Elisabeth Hjelm - Chock (SWE)
Sanna Nilsson - Lennox (SWE)
Photo © Astrid Appels
Related Links
Schurmann and Team Germany Win Under 25 Division at 2014 CDIO Aachen
Merrald and Team Denmark Reign in Under 25 Classes at 2013 CDIO Aachen
Belgian Sensation Continued: De Deken Stays Ahead in Aachen Under 25 Competition