2016 Nordic Baltic Championships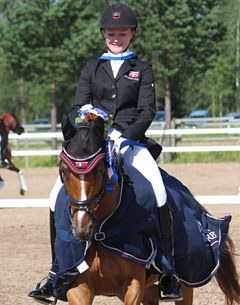 The 2016 Nordic Baltic Championships came to a conclusion on Sunday 3 July 2016 and six new gold medalists were crowned after the Kur to Music finals of each division. Pony riders Sara Aagaard Hyrm and Maria Mejlgaard Jensen, junior Anne Mette Lyager, young rider Alexandra Andresen, Under 25 rider Lina Dolk and senior Grand Prix rider Caroline Darcout became the kur gold medal winners.
The 2016 Nordic Baltic Championships were held at the Finnderby in Ypaja, Sweden, and included championships in para dressage and show jumping. The competition started on Wednesday and lasted for five days.
The individual championship in the pony categories was already decided on Saturday 2 July 2016. In the smallest pony division (Category 2), Danish Sara Aagaard Hyrm saddled her second pony choice FB Gangster, a 10-year old German Riding pony stallion by Golden Moonlight x Dressmann, instead of her team ride Der Harlekin B.  The duo scored a winning 73.618% to take the gold medal in category 2. She referred Caroline Mogensen on Magic Design to silver and Silke Toftgaard on Barnhoeve's Arthur to bronze.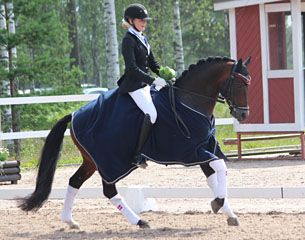 In the tallest pony division (category 1, from which most teams for the European Pony Championships are picked), Danish Maria Mejlgaard Jensen and her 12-year old stallion Bjerregaards Mozart (by Fiango W x Sir Pommeroy) topped the board and got gold with a 76.775% earning freestyle. They had Danish Sofie Hansen on the 9-year old palomino Prince of Glory (by Prince Perfect) right on their heels with 76.175%. Kristian Wurtz Green completed the Danish podium by scoring the third best mark of 75.800% on Lilo L (by Notre Bac x Manitu N).
"I would really like to compete at the Europeans, but next I will participate in the Danish Championships. I think today's competition was better than the days before. We have competed together for three years," Mejlgaard stated.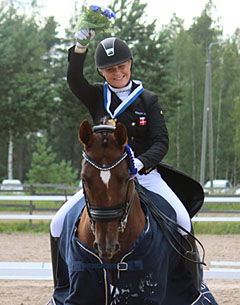 Danish Junior rider was unbeatable in Ypaja and bagged her third victory of the weekend and her second gold medal. Lyager and the 10-year old Danish gelding Brandtoftes Sjubell (by Don Juan x Ibi Bell) scored a winning 74.575% for kur gold and kept Swedish Cornelia Pettersson at bay. The Swedish rode the Grand Prix gelding Final Cut (by Federweisser x Carismo) and scored 72.250% for silver. Danish Sandra Aagaard Hyrm and the 10-year old gelding Cash (by Cassini II x Lesotho) bagged the bronze with 71.750%.
At young riders level, Norwegian Alexandra Gamlemshaug Andresen and her second horse in her string, the 11-year old Oldenburg bred Don Massimo (by Don Larino x Santander), slowly climbed their way up the ladder in the ranking at Ypaja and on Sunday they were able to go for gold in the kur by posting a score of 73.300%. Danish Pernille Koch Rasmussen and the 15-year old Danish bred Heslegaards Robert (by Rubin x Landau) earned silver with 71.975% while Finnish Ella Paloheimo and the 13-year old Hanoverian gelding Wolle Wolkenstein (by Wolkenstein II x Buenos Aires) snatched bronze with 70.775%.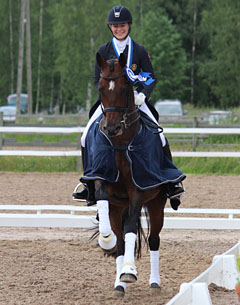 "I didn't have time to make a new freestyle program so I borrowed the program from Andreas Helgstrand," said Andresen after her kur victory. "Andreas is my trainer, but he couldn´'t come here so Annie Hilde Linden is helping me here. I was quite sick yesterday so my horse Don Massimo had a day off. He was really fresh today and I hit the music. We have been struggling a little with him being so hot. He'll get couple of weeks off and then I think we are competing in Odense and in the Norwegian Team Championship and maybe take him further on in the Grand prix."
The Under 25 division at the 2016 Nordic Baltic Championships was quite a small one, but the five participants rode with much enthusiasm. Four contested the freestyle and Swedish Lina Dolk topped the board with 69.875%. She rode the Grand Prix schoolmaster Biggles, an 18-year old Swedish stallion by Briar x Krevad previously competed by Jan Brink and Kristian von Krusenstierna. Dolk scored 69.875% for gold in the Kur. Norwegian Catharina Lorentzen Lund and Helios came from the 2016 European U25 Championships in Hagen to the Nordic Baltic Championships in Ypaja and will return home with a kur silver medal after scoring 69.300%. Danish Kathrine Springborg and her Danish gelding May Candeloro (by Michellini x Chrevi's Cavallo) got bronze with 67.050%.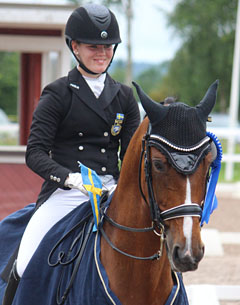 "It feels a bit unreal, we have gone so fast forward," Dolk admitted. "I have not had him for so long. I got him in January. I'm really grateful. I train at home for Emilie Brolin, where Biggles is stabled and here at the show by Kristian von Krusenstierna who rode him before me. Our best result was in the Grand Prix. Today he was a bit hot and it was a little difficult to calm him. We managed to ride with the music. It was the first time I rode the Grand Prix Kür so this result is really good. I'm going to Aachen with him next in two weeks and then he gets a little vacation. He is already 18, so I hope he will stay fresh and compete for another year. We are participating in the Future Challenge back home and hope we are in the finals at the Friends Arena."
Swedish Grand Prix rider Caroline Darcourt earned gold in the senior Grand Prix category aboard Antonia Axson Johnson's 13-year old Swedish gelding Paridon Magi (by Don Primero x Napoleon). They earned 72.300% for their freestyle and edged out Danish Helene Melsen on the 11-year old Trakehner Aston Martin (by Monteverdi x Sixtus), who got 71.300%. Swedish Kristian von Krusenstierna won bronze with his 13-year gelding Languedoc (by Laomedon II x Francisco) on 70.825%.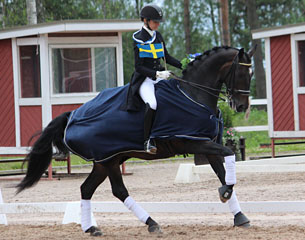 "It was exciting to wait for the results," Darcourt explained. "My horse felt a bit tired today, but I'm really happy with him. He is fantastic in every way. Now he really tried his best. He just gets better and better all the time. He is 13 years and has competed at Grand Prix level for a few years, but only now he begins to shine. He is the kindest horse, extremely social. Sometimes he is a little unsure of himself and needs the rider's help."
Photos © Senja Holpainen
Related Links
Scores 2016 Nordic Baltic Championships
Danish Junior and Young Riders Win Team Gold at 2016 Nordic Baltic Championships
2016 Nordic Baltic Championships Kick Off in Ypaja, Finland, with Team Competition