2016 World Championships for Young Dressage Horses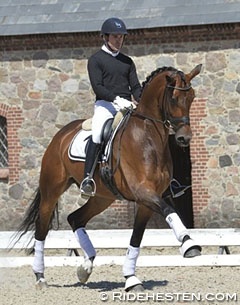 A final short list of Danish horses has been announced for the final qualifier leading up to team selection for the 2016 World Young Horse Championships in Ermelo, The Netherlands on 29 - 31 July 2016. At the observation trial on 11 June Danish selectors picked a short list of nine 5-year olds and eight 6-year olds for the final selection competition in July.
Danish team selection is based on a clearly defined selection process: two selection events as well as a list of pre-selected horses based on their achievements last year were used to draw up the long list. The long listed horses were invited to a special observation trial on 11 June 2016 in Vilhelmsborg, where a short list was made. The short listed pairs will go head to head in a final selecion competition on 1 - 2 July 2016 in Vlhelmsborg.
Biggest absentee from the 6-year old short list is last year's World Championship silver medal winning pair, Andreas Helgtrand and Fiontina (by Fassbinder). Remarkable is that the short list of 6 year olds has four horses sired by Furstenball out of 8 selected.
Three five-year olds were unable to perform at the observation trial due to minor injuries, but are allowed to appear at the final qualifier nonetheless. They are 2016 Danish warmblood Young Horse Champion Jukebox (by Jazz) the third placed horse Heiline's Danciera and the Danish Young Horse Champion Rockson
The selected horses are:
5-year olds
Line Tange Jacobsen - Zafari Soholm (by Zack x Solos Landwind)
Maria Anita Andersen - Antobello (by Ampere x Fürst Heinrich)
Morten Petersen - Kamar's Don Noir (by Don Romantic x De Noir)
Lotte Wiuff Straarup - F.A. Hallow (by Temptation x Solos Landtinus)
Bettina Laisbo - Kut 'n Move (by Imperio x Le Rouge)
Silje Bakken - Bonjour Majlund (by Bøgegårdens Boney M x De Noir)
Michael Sogaard - Jukebox (by Jazz x Rubinstein)
Severo Jurado Lopez - Rockson (by Rockefeller x Sorento)
Carina Cassoe Kruth - Heiline's Danciera (by Fürstenball x  De Niro)
6-year olds
Severo Jurado Lopez - Fiontini  (by Fassbinder x Romanov)
Thomas Sigtenbjerggaard - Vincent Maranello (by Zack x Future Cup)
Anne Troensegaard - Kipling (by Hofrat x Hohenstein)
Sanne Henningsen - Wilson Stensvang (by Wilkens x Don Schufro)
Katrine Kraglund - First Ballerina Macohl (by Fürstenball x Schwadroneur)
Thomas Sigtenberggaard - Torveslettens Fifity Fifty (by Furstenball x Stedinger)
Michael Sogaard - Fredensdals Fountain (by Fürstenball x Stedinger)
Jan Christensen - Furstenblick (by Fürstenball x Bernstein)
Photo © Ridehesten
Related Links
Eurodressage Coverage of the 2016 World Young Horse Championships