2016 World Championships for Young Dressage Horses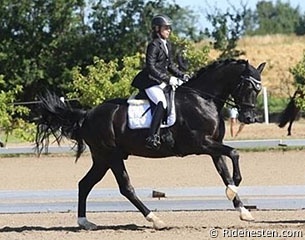 Denmark's west based dressage riders vying for a team spot for the 2016 World Young Horse Championships in Ermelo gathered at the first official Danish WCYH selecion trial held in Vilhelmsborg, Denmark, on Saturday 28 May 2016. Five 5-year olds and three 6-year olds were picked to continue the selection process.
Combinations which gathered in Vilhelmsborg had to impress the selection panel, consisting of Birthe Lyder Nielsen and Jesper Holst Hansen. They agreed on eight horses which will be invited to a training and observation session to be held on 11 June 2016.
The first horses qualified for the training session are:
5-year olds
Freestyler  (by Fürst Függer x Bøgelys Camaro) - Rider: Laila Wittendorff   
Edelgårdens D´Artagnan (by Zack x Ritterstern) - Rider: nia Borggaard Østergaard    
Antobello  (by Ampere x  Fürst Heinrich) - Rider: Maria Anita Andersen        
Zafari Søholm (by Zack x  Solos Landwind) - Rider: Line Tange Jacobsen        
Treasure (by Come Back II x  Fanal Prydsholm) - Rider: Ditte Gilkær       
6-year olds
Wilson Stensvang (by Wilkens x Don Schufro) - Rider: Sanne Henningsen       
Vimogårdens Ricca Donna (by De Noir x  Rubinstei) - Rider: Karen Marie Bruun      
Vadestedet´s Daylight (by De Noir x  Akinos) - Rider: Silje Bakken
Photo © Ridehesten
Related Links
Danish Selection Procedure for 2016 World Championships for Young Dressage Horses
Eurodressage Coverage of the 2016 World Young Horse Championships