Irish Dressage News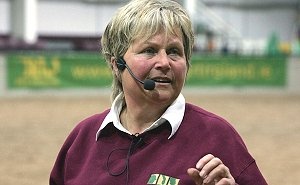 Gisela Holstein has resigned as long serving chair of the Dressage Ireland Judges Committee. She has been replaced by Dermot Cannon.
"Following the recent changes of the structure of Dressage Ireland, Gisela felt that, having overseen the beginning of this transition regarding judging in Dressage Ireland, now is the appropriate time for her to step down from the chair," said the press officer of Dressage Ireland. 
Gisela is a founding member of Dressage Ireland and, since its inception, has been involved with judges training and exams.
"She served on the Judges Committee with integrity and with a true passion for progress of the sport of Dressage in Ireland. Throughout her term, Gisela never wavered from the FEI principles of good riding and good judging and instilled this in her committee members. Gisela will remain as a member of the Committee to give further of her knowledge and experience and will also remain active as DI List 1 judge," said Dressage Ireland.
Dermot Cannon was elected to the chair of the Judges Committee by acclamation. Dermot is a DI List 2 and BD List 3A judge and is deeply involved with all aspects of dressage judging.
"Dermot will bring his innovation, experience and expertise as a dressage competitor and judge, to the solid foundations laid down by his predecessor," Nolan explained.
Related Links
Gisela Holstein Recovering in Hospital After Training Accident At Home
Horse Sport Ireland Coaching Conference Draws Large Attendance
Heike Holstein to Coach Irish Young Riders at European Championships
Heike Holstein, 2007 Irish Dressage Champion