British Dressage News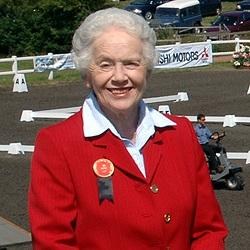 Diana Mason, double British Olympic Dressage Team rider, has sadly passed away at the age of 82 after a long battle with illness.
Mason was the Chairman of the British Horse Society Dressage Group, the predecessor of British Dressage, for 17 years from 1975 to 1992,
Diana started her career as an event rider, finishing third at Badminton in 1954 and winning team gold at the European Eventing Championships the same year. As a dressage rider, she competed at two Olympic Games – Montreal (1976) with Special Edition and Seoul (1988) with Prince Consort – and was Britain's team manager the first time an equestrian competition was included in the Paralympic Games, in Atlanta in 1996.
Probably Diana's most famous equine relationship was with Tramella. Standing just 15hh, by the Thoroughbred Tramail out of a Welsh pony, the mare still holds the 52 year old record as the only horse to have won European gold medals in eventing and dressage. Diana's father George bought her as a four year old for his then 17 year old daughter and after a tricky start, they found themselves at Badminton in 1952 and they were selected for the 1954 Europeans at Basle. Against the odds, they won individual gold.
A fall at the Windsor Europeans the following year shattered the little mare's confidence so Diana retired her from eventing and turned her talent to dressage. Diana watched the Grand Prix at the 1956 Stockholm Olympics and felt little 'Mell' had the credentials to get to this level. Aged 12, Diana did indeed get her to Grand Prix and in 1959 the travelled to Aachen, the home of dressage. In 1963 they were chosen for the European Championships in Copenhagen, with Mell at the grand old age of 17 and were part of the gold medal team.
Diana always attributed her passion for dressage to the little Welsh cross and if not for Mell, her equestrian career may have taken a different path.
She took two further horses, Special Edition and Prince Consort to Olympic level in dressage before retiring from competition to focus on judging. Prince Consort actually made his Olympic debut before his rider at the 1984 Los Angeles Games but was ridden by Jennie Loriston-Clarke. Diana had been selected as a reserve but as the Games neared and her chances of going disappeared, Diana turned the horse away. Dutch Courage was then hit with a virus and unable to travel. Diana was contacted and generously, she agreed for Jennie to ride him. Shoes put on, a bath and on to the lorry to Stanstead to make the flight to the USA. The team met at the old Towerlands, Jennie had a sit and quick ride and the decision was made. Diana did act as Chef d'Equipe for the trip as she wasn't riding. But four years later in Seoul, Diana was selected, on Prince Consort, alongside Jennie and Dutch Gold.
Jennie said of her team mate; "Diana was always helpful and encouraging early in my career. She'd done the lot; her eventing career was outstanding and to reach the same levels in dressage is special so you respected her abilities. She was a generous and supportive member of any team, always there to support everyone, no matter how her own performance had gone. She trained a number of horses from novice to Championship level, in two disciplines, and there are not many riders who can lay claim to that.
She was a keen competitor with a will to win and had the talent to match. It always surprised me that she never did more teaching. She gave so much time to judging but never as a coach or mentor. Perhaps that was down to her private and shy nature. Don't get me wrong, if she believed something was right or wanted to put her point across, she'd certainly make her views known!"
Jennie recalled that the team used to laugh at Diana's animal friendly nature; "Her arena at home had rabbits burrowing in the top corners and she wouldn't shift them – no one could upset 'her bunnies'. We used to have to shout at her to ride her corners properly as she never did at home!"
Another fond memory around their trips abroad from Jennie was; "Diana was tee total – never touched a drop. Yet she was always the one stopped at customs in Calais and searched while we'd all pass her with our wine purchases safely stowed!"
Diana was an active BD List 1 judge right up until 2013 and international judge. Always generous with her judging time, she regularly supported local Riding Club and Pony Club competitions as well as her BD commitments. She was awarded an OBE by HM The Queen for her services to equestrian sport in 2008.
She moved to Norfolk from her West Midlands roots to be near her sister Valerie and friends at the end of last year.
Related Links
Tramella, the Unique Record Holder
Scores: 1978 World Championships
Noseband Special: Part III: Riders and Trainers on Their Choice in Noseband
Dutch Courage, Pioneer of British Dressage
Wolfdietrich, Chammartin's Aristocrat