2016 CDI Wellington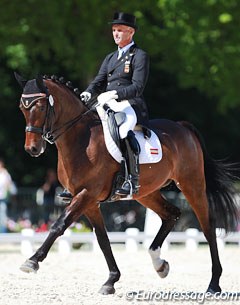 Spanish Olympic Grand Prix rider Juan Antonio Jimenez is broadening his horizon and has decided to compete in Wellington, Florida, this winter show season as part of a major partnership with renowned Mexican stud farm Cortijo Las Morerias. Jimenez and Las Moreias' owner Lorena Morales are bringing twelve horses to Florida to show at the 2016 Global Dressage Festival.
Jimenez has opted for Wellington, Florida, instead of the Spanish Mediterranean tour (CDI's Jerez and Valencia) because of his close partnership with Cortijo Las Morerias, founded by Abelardo Morales and located in Monterrey, Mexico. They are an exclusive stud that breeds, rears and trains Spanish and Lusitano pure breds.
Jimenez and Las Morerias have worked together for three years and are tightening their work relationship in 2016. They start off with this training and competition campaign in Wellington, Florida.
"This tour is very attractive for Las Morerias as as we have the opportunity to compete for three consecutive months," Jimenez told Eurodressage. "Geographically Florida is closest to Monterrey. I had been thinking of competing in Florida for some time and when this proposal came up I didn't want to miss it."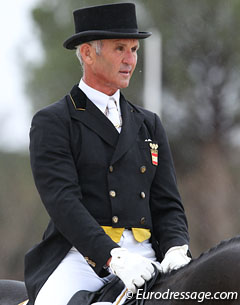 Florida will give Juan Antonio the unique opportunity to work intensely with the Las Morerias' horses and their riders for an extended period of time.
"We are bringing twelve horses to the United States," said Juan. "Six come from Europe, of which two are my own Grand Prix horses Elevado and Sunny Boy, and six more horses travel directly from Mexico to the United States. This is an important project which we have been planning for months, even before we knew what the schedule for the Spanish competitions was."
The Cortijo Las Morerias' PRE and Lusitano horses that are shipped to Florida range from young horse novice level up to Prix St Georges. Juan's 12-year old Hanoverian Elevado and 12-year old Oldenburg Sunny Boy will tackle the big tour. Jimenez will be coaching the Mexican riders that come along, including Lorena Morales, the daughter of stud owner Abelardo Morales. They will all go into the show ring this winter.
"I think it is wonderful that a stud like Las Morerias believes in and commits to the Spanish and Portuguese purebred and wants to show their horses in such an important arena as in Wellington. Also the Spanish PRE purebred is very appreciated in the United States," Juan explained.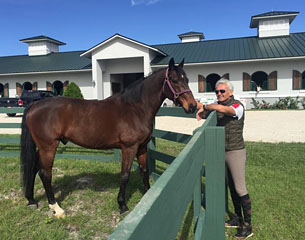 Jimenez and the Las Morerias team are located at Eagle Tree Farm right near the Global Dressage Festival show grounds. Florida will give the Spanish former team rider momentum to put mileage on his talented youngsters as well consolidate form and gain world ranking points with his Grand Prix mounts in the 4* and 5* CDI classes.
"My goals are simple. I want to improve the scores of all my horses, competition after competition, and I want to do what I love most which is to compete," said Juan.
For more information about Juan Antonio Jimenez and Las Moreias, visit Juan's Facebook page or www.lasmorerias.com
Related Links
Juan Antonio Jimenez Returns to the Big Time with a Foursome of FEI Stars
Jimenez Finds Silver Lining by Winning 2013 Spanish Developing Prix St Georges Horse Championships
Florida Scores Count for Spanish Olympic Team Consideration
Juan Antonio Jimenez Loses Naomy
Jimenez Wins 2005 Spanish Dressage Championships in Home Town