Spanish Dressage News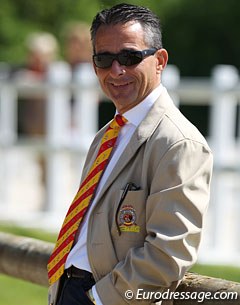 Grand Prix scores achieved by Spanish riders in Wellington, Florida, will count for consideration towards 2016 Spanish Olympic team selection, unlike what American website Dressage-News has stated. 
Two prominent Spanish Grand Prix riders will be competing on the Florida show circuit the next three months. They are Juan Antonio Jimenez from Madrid and the Wellington based European junior rider's champion Juan Matute Guimon, who has been competing Don Diego in the senior Grand Prix divisions. On Thursday 14 January Matute achieved a personal best score of 70.540% in the Grand Prix at the CDI-W Wellington.
On Friday 15 January 2016, the American website Dressage-News published that "that the Spanish federation has made clear it (Matute's score) will not count and neither will any other results in Wellington." In a separate article, Dressage News again stated, "The Spanish federation has made clear it will not count any CDI results in Wellington toward Juan's efforts to earn a place on Spain's Olympic team insisting that only results in specified European competitions will count."
The Spanish Equestrian Federation never publicly announced that Wellington scores would not be taken into consideration.
Eurodressage contacted Spanish Dressage Technical Director Luis Lucio for a clarification and he confirmed that, "of course, scores of the CDIs there in Wellington and all over the world count towards the qualification of Spanish riders for our teams."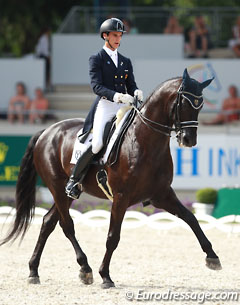 Lucio added that, "the qualification process goes on along the season in all the CDIs in Spain or foreign countries , where spanish riders compete in GP or GPS till June 2016, when we have our Spanish Championships and we will do finish our previous selection."
After the Spanish Nationals the federation will create a short list of team candidates who will be sent to other European shows to check their performance on European soil before the team is announced after the 2016 CDIO Aachen. This has been the "normal" procedure for Spanish team selection almost a decade.
"The National Selection Committee will follow all these shows and the way of going of our riders till the last moment of selection in order to take a decision," Lucio explained.
According to the Matute family the misunderstanding with the American media and Wellington show director arose from the Matute's decision not to compete as much in Wellington as normally; simply to keep the horse fit for the Euro-leg of the team selection procedure, the most decisive part in the process.
"(Juan Matute Sr was asked) why we were reducing the number of Grand Prix shows for Don Diego this season in Wellington, and Juan Sr explained that we must keep our horse fresh and ready for European shows which are the only ones taken in consideration for the selection of our team," Matute told Eurodressage
Photos © Astrid Appels
Related Links
Luis Lucio Appointed Dressage Director of the Spanish Equestrian Federation
Spanish Dressage Squad Training Sessions for 2016 Announced
Spanish Grand Prix A and B-Squads for 2015 Announced
Spanish Team Selected for 2015 European Dressage Championships