2015 PSI Auction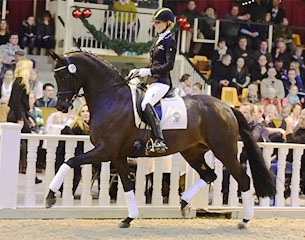 The show jumper Stalognia and the dressage horse Fasine became the price highlights of the 36th P.S.I. Auction in Ankum, Germany, on Sunday 6 December 2015. Paul Schockemöhle and Ullrich Kasselmann created another outstanding and exquisite collection of show jumping and dressage horses, and they were finally highly satisfied with their two top horses and a total revenue of 17,795,000 euro.
The 6-year old grey jumper mare Stalognia (by Stakkatol x Chacco-Blue) was the top priced horse of the auction, selling for 1.7 million euro to France.  Stalognia is a daughter the successful Chalanda, which sold at the 2012 P.S.I. Auction. Paul Schockemöhle confirmed this decision: "Stalognia is maybe the best horse I have ever bred."
The top priced dressage horse in the collection was the 6-year old Oldenburg mare Fasine (by Furst Romancier x Sandro Hit). She won the Oldenburg Elite Mare show in 2012 and was the grand champion in the 6-year old division at this year's Bundeschampionate. The German laywer, real estate agent and race horse owner Dietrich von Boetticher acquired Fasine for 1.3 million euro. Von Boetticher owns the Bavarian Gestut Ammerland, but the dark bay mare will stay with his current rider Isabel Freese-Bache to continue her dressage training.
Ammerland also acquired Der Schufro (by Der Designer x Schufro) for 400,000 euro and Fior (by Furstenball) for 350,000 euro.
The third most expensive horse of the collection was the jumper mare Chacco's Girl (by Chacco Blue x Baloubet de Rouet), which sold for 900,000 euro.
The second most expensive dressage horse was the chestnut Oldenburg stallion Sean Connery II (by Sir Donnerhall I x Rotspon). He sold for 850,000 euro to French banker Patrice Mourruau, who lives in Luxembourg.  American Eric Miller purchased Sir Amour (by San Amour x De Niro) for 750,000 euro.
American Jamie White-Welling acquired three dressage horses for her collection: Belle Fleur (by Belissimo M) for 450,000 euro, as well as Dallas (by Desperados) and Rebroff (by Robespierot). The chestnut mare Belle Marie (by Belissimo M) sold to German customers for 200,000 euro.
The dressage horses in the 2015 PSI Auction collection sold for an average price of 316,739 euro.
Host Ullrich Kasselmann concluded by the results of 36th P.S.I. Auction that they are following the right path. Schockemöhle and Kasselmann will continue to support and foster the breeding business to maintain the basis for the P.S.I. auctions. "Besides, Paul and I have decided to fertilize the tournament scene with new ideas – be ready for amazing novelties," said Kasselmann and his partner, who want to keep surprising.
For more information on the collection, the auction, POCs and service, visit www.psi-auktion.de
Complete results list
47                           Curonia                    350.000
10                           Belle Fleur               450.000
49                           Chagrano                  750.000
19                           Fasine                    1.300.000
39                           Stalognia               1.700.000
14                           Sean Connery           850.000
29                           Carnan                      450.000
21                           Sir Amour                 750.000
36                           Charinta                     510.000
20                           Bella Marie                200.000
50                           Chacco`s Girl            900.000
16                           Boulevard                  200.000
45                           Quidam`s Son            380.000
25                           Der Schufro                400.000
27                           Balou`s Captain         500.000
8                             Danny Black              225.000
38                           Sanvano                      500.000
9                             Quality Street             110.000
46                           Cenbalou                    400.000
13                           Rebroff                       350.000
52                           Cargranda                   480.000
1                             Fior                             350.000
41                           La Barca                     200.000
2                             She`s Nice                  120.000
48                           Baldorra                      200.000
5                             St.Julian                      140.000
34                           Chaccobet                   590.000
4                             Fürstenhit                    180.000
42                           Centalouette                240.000
6                             Bocuse                        220.000
32                           Chacera                       210.000
7                             Dallas                          150.000
31                           Cornet`s Crown          270.000
3                             Baron Rouge               105.000
51                           Conchalon                   400.000
15                           Fürstenfee                   120.000
33                           Nando                          400.000
17                           Gentleman`s Whisper  120.000
35                           Landlord                      330.000
23                           Lord Londonderry       200.000
40                           Dicasio                         180.000
18                           Langley                        140.000
37                           Clear Air                      150.000
24                           Fiderhit                        150.000
28                           Diatoon                        200.000
26                           Budhi                           455.000
44                           Chaccare                      110.000
30                           San Quintin                 110.000