USPREA Breeding News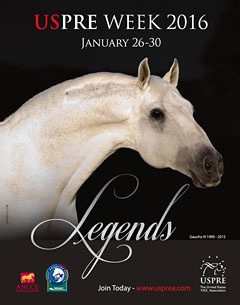 The 2016 USPRE Week is just around the corner. Join the members and fans of USPRE on 26 - 30 January 2015 in Wellington, Florida for the Annual Celebration of the PRE. A full week-long itinerary is being planned for this annual celebration of the breed. 
Our Welcome Members Reception is Tuesday evening, January 26,  at the White Horse Saloon.
The HUGE ANNUAL PARTY is Wednesday evening January 27 at the Global Dressage Showgrounds.  Members from all over the country will enjoy an exciting show, a unique exhibition,  gathering with fellow members and new friends!
On Thursday evening we will come together for the Member Dinner at International Polo Club.  Join us for a gorgeous South Florida evening: fireside cocktails, an elegant dinner and Annual Awards will be announced.
Don't miss these events PLUS SO MUCH MORE!
Join us for Friday Night Freestyles!  The most beautiful and important horses in the world are in Wellington.  Don't miss this event!
A Very Special Guest from Spain will join us! It's all about the horses!
To let us know you're coming, contact Joan at unitedstatespre@gmail.com. She can give you more details.
It won't be the same without you!
Related Links
2015 USPRE Week, The Best One Yet!
Spanish Delegation to Attend 2015 USPRE Week, Lead Seminars for Breeders
USPRE Week at the 2014 Global Dressage Festival