USPREA Breeding News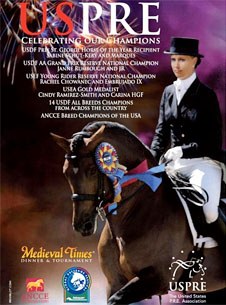 Plan now to join the USPREA for a week of PRE activities and top dressage competition, and be sure to attend the USPRE Party at the Global Dressage Festival on 22 January 2014. This year's events are shaping up to be unforgettable! The USPRE Week activities start on 21 January and last until 26 January 2014.
Tuesday Evening: Welcome Reception for USPRE Members
7:00 PM
Hampton Green Farm
13285 Southfields Road
Wellington, FL
Wednesday Morning: TRC Handling and Preparation Clinic
9:00 AM
MTICA Farm
13175 Southfields Road
Wellington
Wednesday Evening: USPRE Party at Global Dressage Festival Pavilion
6:30 PM
1440 Pierson Road
Wellington, FL 33414
 
Thursday Morning: Breakfast Meeting with Tanya Duffey and Ricardo Nigaglioni
9:00 -10:30 AM
Meet with our Staff, who will be on hand to answer LG or USPRE
questions and inform of new programs and benefits.
Global Dressage Pavilion
Thursday Evening: Member Dinner
7:00 PM
International Polo Club of Palm Beach
3667 120th Ave. South
Wellington, FL
$100.00 per person
Friday Morning: USPRE Office Tour
 9:00 AM- 12:00 PM
USPRE Offices
12765 Forest Hill Blvd., Suite 1315
Wellington, Florida
Thursday through Sunday: USPRE-sponsored CDI-W at the Global Dressage Festival Showgrounds.
Other Wellington activities include Saturday evening Stadium Jumping at the PBIEC Showgrounds and Polo on Sunday at the International Polo Club. Wellington, Florida is located approximately 11 miles west of the Palm Beaches and all of the amenities of the Treasure Coast of Florida.
All USPRE activities are free of charge to USPRE members, except for the Member Dinner at the International Polo Club. Price for the Member Dinner is $100.00 per person.
BREEDERS TABLES:
Breeders are welcome to bring materials promoting your farm and horses in the Pavilion at the Global Dressage Festival during USPRE Week. Please let Ricardo know if you plan to do this, and we will provide you with a display table. We ask that you take responsibility for your own materials and make sure that your displays are maintained.
USPRE HOSPITALITY AT THE GLOBAL DRESSAGE:
For those of you attending the CDI-W Dressage Show, USPRE has limited seating at a table in the Pavilion. If you would like to request a ticket to sit at ourtable for one of the International classes, please contact Ricardo in the USPRE office.
For any questions, comments or concerns please contact Ricardo Nigaglioni at 786-264-1108 or ricardo@usprea.com.