Canadian Dressage News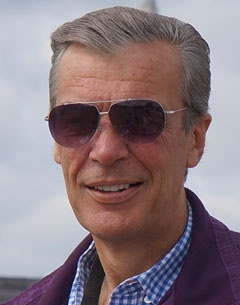 Canadian Grand Prix dressage trainer and rider Neil Ishoy has passed away suddenly and unexpectedly on 4 November 2015. He was 56 years old.
Ishoy was born in Weston, Ontario in 1959 and began his equestrian career as an eventer. He represented Canada at the 1980 Alternate Olympic Games in Fontainebleau, France and the 1982 World Championships in Luhmuhlen, Germany.
Ishoy mostly focused on dressage coaching and training throughout his life. He briefly returned to the show ring in 2001. Aboard the Oldenburg gelding Andiamo Tyme (by Andiamo), who was later on competed by Kyra Kyrklund, Neil won 2001 Dressage at Devon and the 2002 Canadian League Finals at the Royal Horse Show. He qualified for the 2002 World Cup Finals in 's Hertogenbosch, but had to withdraw as Andiamo Tyme had not yet recovered from a knee injury.
Neil competed his wife Cindy Ishoy's Grand Prix horse Proton once at the 2008 World Cup qualifier in Blainville, and one year later he rode Lonestar at the same show. It was his last international outing.
Neil leaves behind his wife Cindy and his two children Kahla and Zack.
A private family service will be held at a later date.
Related Links
Ishoy Warms Hearts of Devon Crowds
Canadian Conquest at 2001 Dressage at Devon
Neil Ishoy Wins Swarovski Canadian League Dressage World Cup Final at the Royal Horse Show
Trussell Replaces Ishoy in 2002 Canadian WEG Team Lineup
Canadian Grand Prix Rider Jon Costin Passed Away