2015 Brazilian Dressage Championships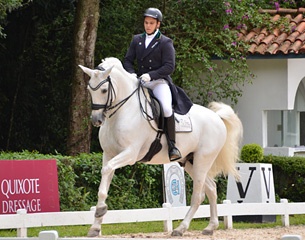 Grand Prix rider Pedro Tavares de Almeida and small tour rider Sarah Waddell became the champions of the 2015 Brazilian Dressage Championships held during the 2015 CDI Sao Paulo at the Clube Hípico de Santo Amaro on 23 - 25 October 2015. The Big Tour Championship was contested over the Inter II and Grand Prix Kur to Music and served as Olympic observation trial.
The Brazilian Nationals were judged by Claudia Moreira Mesquita (BRA), Sandra Smith de Oliveira Martins (BRA) and Max Piraino (CHI). Six Grand Prix riders contested the Big Tour Championship, while a small group of seven campaigned for the small tour title.
The 22-year old Pedro Tavares de Almeida rode the 13-year old Lusitano stallion Xaparro Vouga (by Marfim do Top) to the gold medal and national Grand Prix Champion's title. The dup scopred 67.412% in the Inter II and 67.100% in the Grand Prix Kur to average a winning score of 67.256%. The silver medal went to Manuel Tavares de Almeida on Aoleo (by Owni), who cloecked 67.105% and 65.567%. Leandro Aparecido da Silva and the German bred 13-year old Dicaprio (by Donnerhall) landed the bronze with 65.746% and 63.833% to finish third overall.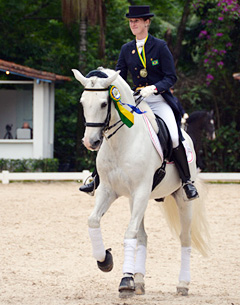 "Today, I have to thank Edneu José Senhorini who trained and Xaparro do Vouga to Grand Prix level," said a grateful Pedro, thanking the assistent trainer of Rocas do Vouga owned by the Tavares de Almeida family.
The Small Tour championship took place over three rounds: the Prix St Georges, Intermediaire I and Inter I Kur to Music. Sarah Waddell, who is the head rider at Quixote Stables owned by Brazilian mogul Jorge da Rocha, made another appearance on Alexandre Liandro Vieura's former ride, 13-year old Lusitano Xerife dos Diamantes (by Quadro do Top). Waddell started campaigning the grey stallion internationally in May 2015 and this was their second CDI appearance. They scored 67.632% and 67.895% to win the PSG and Inter I. In the Inter I kur they placed third with 70.583% but averaged 68.703% to win the Small Tour title. The silver medal went to Pia Aragao on the 10-year old Lusitano Baldor Interagro (by Ofensor). The pair scored 67.149%, 67.719% and 71.083%. Antonio Victor Marcari Oliva and the 13-year old Lusitano Xerife do Top (by Navarro) were good for bronze with 66.579%, 66.930% and 71.167%.
"I'm exclusively riding Dr. Jorge's horse but Xerife is an exception," Waddell told Eurodressage. "As I will ride Donnelly in competitions again as of next year for the Olympic qualifications and did not want to miss out on the Brazilian Championship, I entered it with Xerife, and it turned out 'quite' well, I thought."
Photos © CHSA - Carola May
Results - 2015 Brazilian Dressage Championships
Small Tour
1. Sarah Waddell - Xerife dos Diamantes - 67,632% - 67,895% - 70,583%  --- 68,703%
2. Pia Aragao - Baldor Interagro - 67,149% - 67,719% - 71,083% --- 68,650%
3. Antonio Victor Marcari Oliva - Xerife do Top - 66,579%   - 66,930% - 71,167%  --- 68,225% 
4. Victor Trielli Avila - Vencedor JB - 65,789%  - 66,360% - 69,542%    --- 67,230%
5. Leandro Aparecido da Silva - Laurentio - 64,868% - 66,228% - 69,125%   --- 66,740%
6. Bruno de Certaines - Finesse - 64,649%  - 64,781% - 67,417%  --- 65,616%
7. Bianca Falzoni Alves Lima - Arcos HM - 60,746%   - 62,325% - 0,000%   --- 41,024
Big Tour
1. Pedro Tavares de Almeide - Xaparro do Vouga - 67,412% - 67,100% ---- 67,256%
2. Manuel Tavares de Almeida - Aoleo -  67,105% - 65,567% --- 66,336%
3. Leandro Aparecido da Silva - Dicaprio - 65,746% - 63,833% --- 64,789%
4. Pia Aragao - Zepelim Interagro - 63,816% - 64,833% --- 64,324%
5. Rogerio Clementino - Bravissimo - 65,175% - 62,033% --- 63,604%
6. Manuel Tavares de Almeida - Xisto Mac - 61,404% - 64,233% --- 62,818%
Related Links
Pass, Trielli, Clementino Win 2014 Brazilian Dressage Championships
Brazilian Team to be Sent to 2012 North American Junior/Young Riders Championships