British Dressage News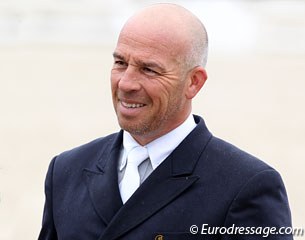 British Grand Prix rider and I-judge Peter Storr has stepped down as British Pony team trainer with the 2015 European Pony Championships as his final show in the position.
Storr led the British Pony Team to team bronze (2013), team silver (2014), and historic team gold at the 2015 Europeans and coached his own student Phoebe Peters on SL Lucci to the 2013 and 2015 European Pony Championships title, triple world records and 2014 Kur silver medal
Storr took up the position as British Pony team trainer in 2006 and has worked nine years on the post.
British Dressage is now looking to appoint a trainer to the Pony Progress Squad to continue the development of the Pony Squads. The role aim is to work with the Pony Selectors and Pony Team Trainer in order to deliver an effective and thorough coaching structure to develop Squad pony/rider combinations to move up to the Pony Prime Squad. The Pony Progress Squad Trainer reports directly to the Chief Pony Selector and the Director of International Teams.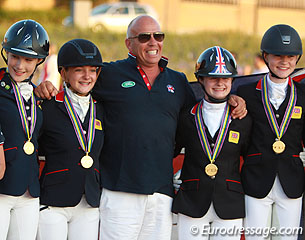 The role, which is paid a daily/half day rate plus travel and accommodation expenses (as per the BD Progress Squad Trainer Expense policy), includes attending an annual viewing day to select riders for the Pony Prime and Progress Squads and subsequent training weekends/days; working with riders/parents and their home trainers to draw up and monitor training plans throughout the winter months and results during the year. It involves periods of time away from home to attend training sessions, national plus international competitions and European Championships as required.
The Pony Progress Squad Trainer will co-ordinate all training at home in liaison with the Pony Selectors, riders/parents and their home trainers and U21 office staff.
Photos © Astrid Appels
Related Links
Barrett and Storr, New Trainers for British Under-21 Teams
Phoebe Peters Secures Team Gold for Great Britain at 2015 European Pony Championships
Phoebe Peters Claims Kur Gold with World Record Score at 2015 European Pony Championships
Peter Storr Makes International Judging Debut at 2014 CDI-JYR Ryazan