What's Happening in the Dressage World?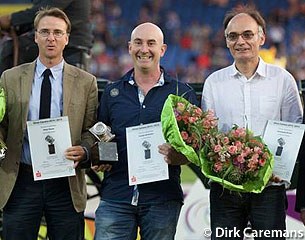 Dutch equestrian photographer Leanjo de Koster became the winner of the 2015 Silver Camera Award for the Best Equestrian Photo of the Year. The Silver Camera Award is awarded annually in Aachen and is the only prestigious award for equestrian photography in the world.
Three photos out of 114 submissions got selected for the 2015 Silver Camera Award.
Leanjo de Koster, who runs the equestrian photography business Digishots in The Netherlands and who is a contributor to Eurodressage, won the award and received it in special ceremony in the Aachen main stadium at the 2015 European Championships on Saturday evening 22 August 2015.  French photographer Christophe Bricot finished second, Brit Peter Nixon was third.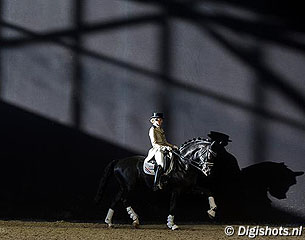 The winner gets a silver camera trophy and a 2,500 euro cash prize, the runner up gets 1,000 euro and the third placegetter 500 euro.
The jury comprised Michael Strauch (photographer), Ludo Philippaerts (Belgian show jumper), Andreas Müller (Executive Director Zeitungsverlag Aachen), Erich Timmermanns (Director Advertising & PR Sparkasse Aachen) and Frank Kemperman (Aachen show director). Normally last year's Silver Camera winner is part of the jury, but Pam Langrish was not listed this year.
Leanjo de Koster won with a beautiful photo of Dutch dressage rider Dinja van Liere who was warming up her small tour horse Capri Sonne JR (now sold to Laura Tomlinson-Bechtolsheimer) at the 2015 CDI-W Amsterdam in January 2015.
Photos © Dirk Caremans - Leanjo de Koster
Related Links
Pam Langrish Wins 2014 Silver Camera Award
Appels, Bronkhorst, Langrish Nominated for 2014 Silver Camera Award
Dirk Caremans Wins 2013 Silver Camera Award
Julia Rau Wins 2011 Silver Camera Award at CDIO Aachen
26th June 2003 - Aachen Accolades
Silver Camera 2001 for Werner Ernst
Bernhard Kunz, Winner Silver Camera Award 2000