2015 CDIO Falsterbo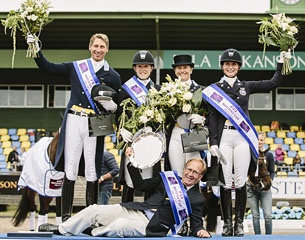 Birthday-girl Tinne Vilmhelmson-Silfven led the Swedish team to victory as the fifth leg of the FEI Nations Cup Dressage 2015 pilot series drew to a close at Falsterbo, Sweden on Sunday 12 July 2015. The Netherlands lined up second ahead of Germany in third while Denmark finished fourth. And the Spanish overtook Team USA for fifth place on this final afternoon.
Vilmhelmson-Silfven, riding Don Auriello, and team-mate Patrik Kittel with Deja, confirmed Swedish supremacy when producing the only two scores above 80 per cent in today's Freestyle. But it was the contribution made by 27-year-old newcomer, Emilie Nyrerod that particularly impressed Bo Jenå.
"I'm so proud of my team!" the Swedish Chef d'Equipe said. "They've done a great job here at Falsterbo and above all, Emelie Nyreröd, who is new in the team at this level and the way that she did it in both the Grand Prix and the Grand Prix Special!"
Grand Prix
The action began with all team-members competing in Friday's Grand Prix in which Nyrerod scored 71.460 with Miata. When added to the 77.500 produced by Kittel and 77.680 awarded to Vilmhelmson-Silfven, the home team was already in charge with a total of 226.640. Minna Telde's 66.300 with Santana was the Swedish discard when only the best three scores for each side were taken into account.
The three-rider Dutch side of Mirelle Kemenade-Willox (Vivaldo), Katja Gevers (Thriller) and Patrick van der Meer (Uzzo) filled second spot on a total of 210.700 while Germany's Nadine Husenbeth (Florida), Matthias Bouten (Ehrengold MJ), Christoph Koschel (Tiesto) and Thomas Wagner (Amoricello) were close behind in third on 210.180.
Denmark's Helene Melsen (Aston Martin), Lena Leschly Aaman (Goerklintgaards Fanero), Lisbet Selerskilde (Jonstrupgardens Raneur) and Andreas Helgstrand (Toerveslettens Stamina) filled fourth spot on 206.220. And Team USA's Susan Dutta (Currency DC), Devon Kane (Destiny), Brian Hafner (Lombardo LHF) and Catherine Haddad Staller (Hotmail) posted 204.360 for fifth spot.
There were also only three on the Spanish team that brought up the rear with a combined mark of 203.800. But they are an exciting bunch of talented young riders, with Severo Jurado Lopez (NOHS Daijoubo) the oldest at just 26 years of age joined by sisters Morgan Barbancon Mestre (Vitana V) who is 22, and 19-year-old Alexandra Barbancon Mestre (Don Lorean) who has just moved up to Young Riders level.
Three classes
The result was decided over three classes, the a maximum of two riders per team taking part in Saturday's Grand Prix Special and the remainder competing in today's Freestyle. Nyrerod's victory in the Special, scoring 72.314, was backed up by a third-place finish for Telde who posted 70.627. And when Kittel's 81.250 was followed by 82.220 from Vilmhelmson-Silfven who topped the Freestyle today, the podium placings were confirmed.
The only change to the standings after the first day was at the bottom of the leaderboard. Jurado Lopez was the only one of the Spanish contingent to go in the Freestyle today, finishing tenth, and when that result was added to a second-place finish for Morgan Barbancon Mestre and twelfth for sister Alexandra in yesterday's Special, the trio frog-leaped the Americans.
The winning Swedes were in buoyant mood after the prize-giving. "It's fantastic to have two riders and their horses in the same team to score over 80 per cent here today at the Nations Cup here in Falsterbo!", said a very happy Patrik Kittel. And Tinne Vilmhelmson, who celebrates her 48th birthday today, was also very pleased with the experience of the last few days of competition.
Perfect practice
"This Nations Cup was the perfect practice ahead of the Europeans next month (European Championships 2015). To ride like a team and work like a team together, it puts more pressure on, and particularly in front of the home crowd because there is so much electricity and atmosphere! There are about seven or eight of us competing here this weekend who are all candidates for the team, but the official announcement will not be made until next Tuesday I think", Vilhelmson-Silfven explained.
"I am extra happy today because everything went smoothly and we worked well to the music" she continued. "My horse and I have had a good summer so far, not too much competition but all successful. We went to Aachen and did very well there and we also went to Hagen. I've been balancing it out between training and showing to keep Anton (Don Auriello) fresh and happy. He will have a rest now and then start training again for the Europeans, but this has been a really nice event, and everyone has enjoyed the team competition very much!" she concluded.
by Louise Parkes for the FEI
Related Links
Scores: 2015 CDIO Falsterbo
Vidauban Hosts Opening Leg of Third Pilot Season for FEI Nations Cup Dressage
2015 Yet Another "Pilot Year" for FEI Nations' Cup Dressage Series
Seven Nations Cup Events Planned for 2015