2015 CDIO Rotterdam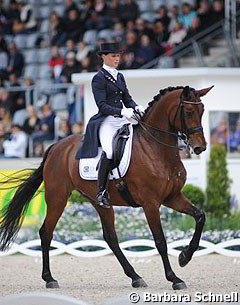 Belgian rider Fanny Verliefden always knew that the 10-year old KWPN mare Annarico (by Lord Loxley x Havel) was something special  and having just taken out the Grand Prix Special 3* at the 2015 CDIO Rotterdam on 18 - 21 June 2015, it seems that her instinct was spot on.
"Annarico arrived at the stable of Dressuurstal Verwimp in Wiekevorst when she was 6 years old, just over 4 years ago," Fanny told Eurodressage. "Her owners / breeders at that time had the intention to sell her and the first time I rode her I immediately fell in love with her, I was mesmorized!"
The bay mare had been in training in The Netherlands and arrived in Belgium as a sales horse with some major training issues that were  fixed with patience and confidence building. Verliefden spotted the potential in the horse straight away and purchased the mare for herself. Fanny is delighted to have shared the journey with her and to earn a score of 73.373% in Rotterdam was a dream come true.
"She was in very good shape during the competition, maybe even with even too much energy. She was really excited and ready to go for it," Fanny added. "In the Special in particular I was super happy with her and the piaffe was already much better so we were able to just enjoy our ride together!  To win was such a great and special feeling, I just couldn't believe it!"
Fanny describes Annarico as very sensitive mare with a lot of power and flexibility, who ikes to work and loves being the centre of attention.
"She is a little princess and being a woman she of course has her good, her bad, and her amazing days," Fanny admitted. "But when she's there, she gives 200% for you!"
Annarico has improving much in the last 12 months, Fanny puts this improvement down to training more on the details as well as gaining more experience in the ring.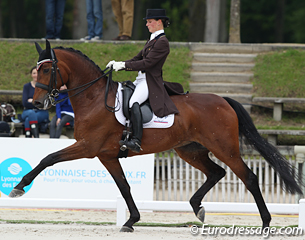 "In my opinion, it's important to gain more confidence in the arena, and once in a while to experience some success as well," she said. "At home, the training sometimes can go really well but it's very difficult to transmit that every time in the ring. We must cope with another environment, more pressure, some stress, etc. When we can transmit bit by bit more in the ring what we are getting at home, then I am a very happy rider! Of course it can go wrong if we have a bad day, but if we keep progressing in general, what more can we ask for?"

Fanny has been training for the last 12 years with Wim Verwimp, who is not only her business partner but also her partner in life. She knows that Wim transformed her into the rider that she is today.

"I've learned already so much from him and I still do every day," she said. "For the last two years I also train with Anky Van Grunsven, Wim's long time trainer, and nowadays Anky takes up a very important role in my preparation for competition and training."
Based at Dressage Stable Verwimp in Wiekevorst, Belgium, Fanny has planned on competing at the 2015 Belgian championship at the end of July and then hopefully onto the European Championships in Aachen.

"But first we have to prove we're worth it," she added.
By Sarah Warne - Photos © Barbara Schnell - Astrid Appels
Related Links
Scores: 2015 CDIO Rotterdam
Dutch Deliver Again and Win Nations' Cup at 2015 CDIO Rotterdam
Rikke Svane Wins 2015 CDI Drachten Grand Prix
De Deken and Verliefden, Belgian Representatives in 2010 Aachen Under 25 Competition