Canadian Dressage News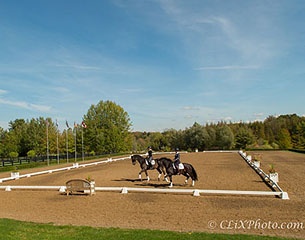 The Canadian dressage Team selected for the 2015 Pan American Games kicks into high gear as the team members will go into an intensive training camp in advance of the 2015 Pan American Games in Toronto, Ontario.
In early July, all members of the team, including alternate Shannon Dueck, who trains out of Loxahatchee, Florida, will test their limits atf Deer Ridge Equestrian, located just 15 minutes from the equestrian venue for the Games, the OLG Caledon Pan Am Equestrian Park in Caledon, ON.
"I am thrilled to be named as an alternate for the Canadian Pan Am team," said Dueck. "It's an honour to be part of such a strong team, and especially exciting because these Games are being held in Canada. This training camp will be incredibly valuable to bring all of the horses and riders to peak performance."
In addition to the riders and their mounts, each team member will have their own contingent of grooms, owners and coaches to help them make the most of this crucial training period. A full support team including Dr. Volker Moritz (Technical Advisor), Dr. Geoff Vernon (Veterinarian), Dirk Stroda (Mental Coach), Christine Peters (Team Manager), Desi Dillingham (Special Advisor), and Alison Martin (Chef d'Equipe), will also be on hand.
Thanks to the generosity of Dr. Lorna Minz and Froukje Staal, the facility's owners, the Canadian Dressage Team will have their own stable attached to the spectacular indoor arena. Team members will also have access to all of the other amenities of the centre, which includes an outdoor riding ring, 200 acres to hack through, and a dozen turnout paddocks. Both the indoor and outdoor arenas have modern surround sound systems, ideal for perfecting those freestyles.
"On behalf of Deer Ridge Equestrian, Lorna and I are thrilled to be hosting the Pan Am training camp, especially since our own Megan Lane is on the team representing Canada," said Staal.
Lane, who will be competing aboard Caravella, is the resident trainer at Deer Ridge and along with fellow Pan Am teammates Brittany Fraser riding All In, Belinda Trussell with Anton, and Chris von Martels with partner with Zilverstar, will aim to put Canada on the podium. Diane Creech, Karen Pavicic and Jacqueline Brooks join Dueck as alternates.

"Congratulations to Belinda, Megan, Brittany and Chris, as well as the reserve riders Diane, Karen, Shannon and Jacquie! It is exciting to be a part of such a strong dressage team going into the Toronto Games," said Martin. "We are so lucky to be having our training camp close to the event venue at the beautiful Deer Ridge Equestrian Centre."
Following the end of the training camp, the entire team will relocate to the OLG Pan Am Equestrian Park, fresh and fit and ready to represent their country in front of a huge hometown crowd.
Related Links
Canadian Team Selected for the 2015 Pan American Games
2015 Pan American Games - Table of Contents