Swiss Dressage News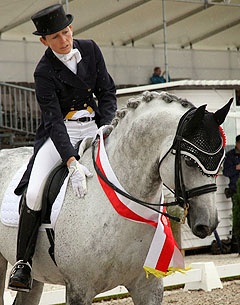 The dressage selection committee of the Swiss Equestrian Federation has announced the riders who are in the running for Swiss team selection for the 2015 European Championships in Aachen.
The selected riders will be competing at the 2015 CDI Compiegne. The event in France on 4 - 7 June 2015 has been flagged as the first team selection trial for Switzerland.
Six combinations have been selected to compete at Compiegne:
Anna-Mengia Aerne - Raffaelo va bene
Caroline Häcki -  Rigoletto Royal CH
Antonella Joannou -  Dandy de la Roche
Josephine Rosen - Crescendo VII
Patricia Schärli - Cappucino XIV
Birgit Wientzek Pläge - For Compliment
The Swiss long list of course also includes the country's number one Marcela Krinke-Susmelj who is riding her top horse Smeyers Molberg at the CDI Achleiten that same weekend. Melanie Hofman and Cazzago is also on the long list. Caroline Häcki will be making her come back to the show ring on Rigoletto Royal after a baby break. Josephine Rosen made her debut as a Swiss rider last weekend after switching nationality.
Photo © SM Dressur
Related Links
Swiss Dressage Teams for 2015 Announced
Dressage in the Third Generation: Antonella and Léana Joannou
Birgit and Christian Plage, Team Work at Its Best