American Dressage News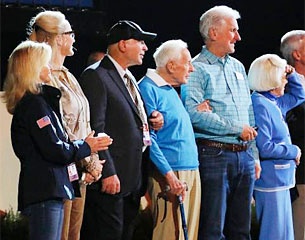 U.S. dressage sponsor Parry Thomas was honoured in a special ceremony on Friday afternoon 17 April at the 2015 World Cup Finals in Las Vegas. The ceremony was combined with the official retirement of his U.S. Team horse Wizard.
Parry Thomas is one of the men after whom the Thomas & Mack Center is named. Parry, now 94 years-old, is credited as a key force behind the development of Las Vegas into the entertainment and gaming capital that it is today.
Parry has been a long-time owner and supporter of dressage along with his wife Peggy, and they owned the 2003 World Cup Champion Brentina, who was ridden by U.S. Olympic rider Debbie McDonald. Brentina was officially retired at the Thomas & Mack Center during a ceremony held at the 2009 World Cup Finals, and today another special retirement ceremony was held.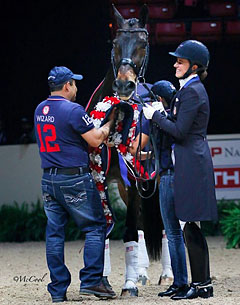 This time it was for Parry's dressage horse Wizard, who won many international competitions with rider Adrienne Lyle.
The pair represented the U.S. at the 2012 London Olympic Games and the 2014 World Equestrian Games™ in Caen, France. It was an emotional day for all involved as Debbie McDonald, who trained Adrienne and Wizard, also took part in the ceremony.
"Not everyone gets to take their first Gand Prix horse to an Olympics and a World Equestrian Games. I think he's given me more than I ever thought or ever could have expected from him," Lyle told Dressage Today.
Wizard is a 16-year old Oldenburg gelding by Weltmeyer x Classiker. He was retired from competition in January 2015 after he strained a tendon in Florida in the winter.
Photos © Amy McCool
Related Links
Adrienne Lyle's Wizard Retired from Competition
Brentina Retired
Verden Auction Horse Brentina
Jayne Thomas Receives "Dream" Present