2015 World Cup Finals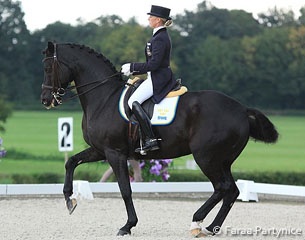 The International Equestrian Federation (FEI) has extended four wild cards  - now officially called "additional invites" - to the highest ranked riders on the world ranking that scored well on the World Cup circuit for the 2015 World Cup Finals in Las Vegas. Danes Lars Petersen and Mikala Gundersen, Italy's Valentina Truppa and Russia's Inessa Merkulova received an invite, but the definite entry field for Las Vegas is not yet definite.
FEI press officer Grania Willis explained to Eurodressage that as of this year there are no "wild cards" for the World Cup Final but additional "invitations" instead. "All invitations are either based on the results in the various leagues, or if some places are still left, distributed based on the FEI World Ranking List among riders who have participated in a minimum of two CDI-W," she said.
Yesterday Dutch qualified rider Danielle Heijkoop announced her withdrawal as her top horse Siro fractured his splint bone and is not fit to compete. Her spot has been given to the next qualified rider, Swedish Malin Hamilton. She will be taking her mount Fleetwood.
In an interview with Ridsport Hamilton said, " I've been tinkering a bit on my freestule and hope the music will be ready, but for the rest all is set for Vegas. We had planned and are prepared for it."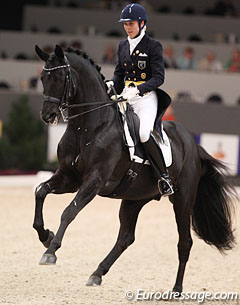 Valentina Truppa has declined competing in Las Vegas as her horse Eremo del Castegno has recently returned to fitness and will make a show come back next week at the CDI Nice. Truppa's focal point for the 2015 show season are the European Championships in Aachen and a 2016 Olympic qualification, so she is refraining from undergoing the long trip to Las Vegas.
With Truppa's withdrawal, Finnish Terhi Stegars and her Trakehner licensed stallion Axis TSF are the next in line for Vegas and she has accepted the ticket.
The qualified riders through the Western European League world cup circuit are title defender Charlotte Dujardin (GBR), Edward Gal (NED), Hans Peter Minderhoud (NED), Jessica von Bredow-Werndl (GER), Fabienne Lütkemeier (GER), Isabell Werth (GER), Agnete Kirk Thinggaard (DEN), Morgan Barbancon Mestre (ESP) and Paulinda Friberg (SWE).
The qualified riders through the Central European League are Elena Sidneva (RUS) and Tatiana Dorofeeva (RUS). They will be joined by a third Russian as a wild card has been extended to Inessa Merkulova and her talented Mister X.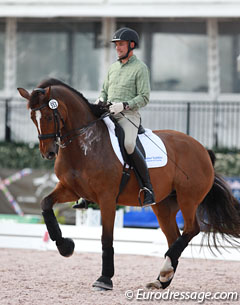 The North American League World Cup circuit only came to a conclusion last weekend at the CDI-W San Juan Capistrano, where Steffen Peters and Legolas captured their ticket to Vegas. They will be joined by Laura Graves on Verdades who was the highest scoring U.S. rider at the Wellington world cup qualifiers.
Danes Lars Petersen and Mikala Gundersen both competed on the North American League World Cup circuit but their scores are not included in the NAL ranking as they are Europeans. However with their good scores, the FEI considered them eligible for an "additional invite". Because both are based in the U.S.A. their transport fees to Las Vegas are NOT covered by the organisation. All European based horses are flown in for free.
The "additional invites" are based on the FEI World Cup Rules, Article 9.5.3: "If more starting places are available, these will be allocated to the athlete(s) with the highest ranking on the February 2015 FEI World Ranking List, and who have participated in at least two (2) CDI-W."
"Both Lars Petersen and Mikala Gundersen are high on the FEI World Ranking list and have received an invitation," Grania Willis explained. "The invitations were not based on their placing in the North American League."
The 2015 World Cup Finals in Las Vegas are scheduled for 14 - 19 April 2015.
Photos © Katarzyna Broda - Astrid Appels
Related Link
Eurodressage Coverage of the 2014-2015 World Cup show circuit