Dutch Dressage News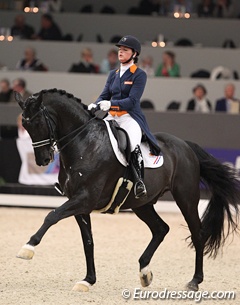 Danielle Heijkoop will not be travelling to the 2015 World Cup Finals in Las Vegas despite having qualified. Her 16-year old Dutch warmblood gelding Siro has fractured his splint bone.
"We were training quietly in preparation of Las Vegas and Siro is actually in top shape," Heijkoop stated in a press release. "Last Saturday he was a bit fresh during a hand walk. The next morning we noticed a small bump on his leg which looked a lot like a sudden splint. On Sunday and Monday we trained and he felt good, but today we scanned him just to be sure. The vet concluded that he had fractured his splint bone."
This is not the first time that Heijkoop misses out on a highlight competition on the calendar year. In 2014 she missed out on the World Equestrian Games in Caen, France, as Siro was injured.
"This is just pure bad luck," said Danielle. "I'm so bummed that it happened now. Fortunately this injury will heal fast and we'll now focus completely on the European Championships this summer. I look to the future with a positive attitude."
Photo © Astrid Appels
Related Links
Danielle Heijkoop to Debut New Grand Prix Horse
Heijkoop Beats Cornelissen in 2014 CDI Mechelen Grand Prix Kur to Music
Heijkoop Withdraws from 2014 CDIO Aachen
Heijkoop and Van Baalen Win the 2014 Dutch Indoor Dressage Championships