2015 Dutch Indoor Dressage Championships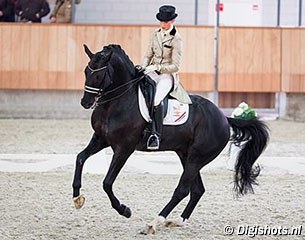 Dinja van Liere and Diederik van Silfhout became the FEI level winners at the 2015 Dutch Indoor Dressage Championships held in Ermelo, The Netherlands, on 27 February - 1 March 2015. Van Liere claimed the small tour title aboard Capri Sonne Jr, while Van Silfhout steered to Grand Prix victory on his rising Grand Prix horse Bonzanjo.
Dinja van Liere and the black Dutch warmblood stallion Capri Sonne Jr (by Rhodium x San Remo) won the national small tour title with an average score of 78.014%. After winning the Prix St Georges with 76.36%, Van Liere freewheeled to victory in the Kur to Music with 79.667%. The stallion stood out with his expressive trot and solid tempi changes. Marieke van der Putten and the Austrian owned Federleicht (by Furst Piccolo) were the runners up with an average of 75.409%. The duo placed second twice. Van der Putten is the assistant trainer at Edward Gal and Hans Peter Minderhoud's yard and took over the ride on Federleicht less than a year ago from Austrian youth rider Timna Zach. Jonna Schelstraete ended up with bronze aboard Cupido (by Tuschinski) after averaging 73.046%.
"This is the third title in a row for Capri Sonne," said the 25-year old Van Liere. "Last year he won ZZ-Licht Indoor, ZZ-Zwaar outdoor and now small tour. We've been winning everything recently. Now we're going to take it easy for a while as the big tour will be the next step."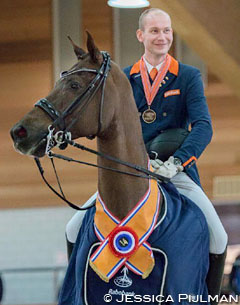 Dutch WEG team rider Diederik van Silfhout saddled his rising Grand Prix star Bonzanjo (by Jazz x Contango) for the 2015 Dutch Indoor Championships and did not make the wrong decision. After winning the Grand Prix with 72.70%, van Silfhout moved on to claim top honour in the Kur to Music with 77,208 to average a score of 74,954% that earned him his first Dutch Grand Prix Indoor Champion's title and a gold medal.  Bonzanjo is bred by the late Huub van Helvoirt and is a full brother to KWPN stallion Tango and Dutch Mare Champion Zahara Obertje. He performed his second Grand Prix test ever in his career in Ermelo and his first Kur ever. The silver medal went to last year's indoor champion, Marlies van Baalen, who averaged 72,614%. Van Baalen placed second twice on the home-bred KWPN gelding Zigeuner DVB (by Gribaldi).  Marjan van der Jagt and Radetsky (by Houston) earned bronze with an average of 70,888%.
"This really is my first title," said the 26-year old Van Silfhout. "I was so relieved and happy after the kur. Bonzanjo did his first freestyle and we hadn't even practised it yet. I'm so happy with how he behaved. It's quite a busy arena and he's been in such environment much. He was on top form for two days. Bonzanjo is a big talent, he does everything so easily. I'll take the time this year to develop him further."
Photos © Digishots - Jessica Pijlman
Results - 2015 Dutch Indoor Dressage Championships - Ermelo
Small Tour - Round 1 - Prix St Georges
1. Dinja van Liere - Capri Sonne Jr.  - 76,36
2. Marieke van der Putten - Federleicht - 73,90
3. Jonna Schelstraete-van den Ham -Cupido - 71,80
4. Kirsten Beckers - Bristol - 71,23
5. Stephanie de Frel - Winston - 68,95
6. Jeroen Okkema  -  Armany Z.i - 68,86
7. Bart Veeze -  Brown Boy - 68,77
8. Fransje van der Meer  -  Aquamarijn - 68,33
9. Diederik van Silfhout -   Zep - 68,11
10. Manon van Hylckama Vlieg   - Archibald - 67,89
11. Kim Jacobi  - Après Minuit  - 67,85
12. Judith Debougnoux-Lonissen  -  Athina - 67,46
13. Wijnanda van Brenk -   Vladimir  - 67,06
14. Yessin Rahmouni  -  Archibalt - 66,58
15. Ingeborg Klooster -   Lex oet oale Kloosterveen - 65,70
16. Michelle de Jonge  -  Pays Bas Nl - 65,31
17. Carolien Reverdink  -  The Ritz R&b - 65,22
18. Trea Mulder-Dolsma  -  Brinkhof's Zaira  - 65,18
Willem-jan Schotte  -  Chuppy Checker - ELI
Kyra Klinkers  - Whoopydoo - DNS  
Small Tour - Round 2 - Kur to Music
1. Dinja van Liere  - Capri Sonne Jr.- 79,667 
2. Marieke van der Putten - Federleicht  - 76,917 
3. Jonna Schelstraete-van den Ham - Cupido - 74,292
4. Kirsten Beckers  -  Bristol  - 71,625
5. Diederik van Silfhout -   Zep  - 71,250
6. Manon van Hylckama Vlieg -   Archibald - 71,250
7. Jeroen Okkema -  Armany Z.i  -  70,125
8. Stephanie de Frel  -  Winston - 70,042
9. Bart Veeze -   Brown Boy  - 69,792
10. Fransje van der Meer - Aquamarijn - 67,250
Small Tour - Overall Ranking
1. Dinja van Liere  - Capri Sonne jr.- 78,014
2. Marieke van der Putten - Federleicht  - 75,409
3. Jonna Schelstraete - Cupido - 73,046
4. Kristen Beckers - Bristol - 71,428
5. Diederik van Silfhout - Zep - 69,680
Big Tour - Round 1 - Grand Prix
1. Diederik van Silfhout  - Bonzanjo-  72,70
2. Marlies van Baalen -  Zigeuner Dvb - 70,77
3. Diederik van Silfhout - Vorst D. -  70,03
4. Marjan Van Der Jagt -  Radetzky - 69,90
5. Lynne Maas - Zamora  -  68,80
6. Johan Rockx - Verdi De La Fazenda - 68,30
7. Kirsten Beckers - Westpoint -  68,23
8. Lynne Maas -Uranium W - 65,30
9. Miriam Hollander - Wilfonia -   65,03
10. Mirelle van Kemenade-Witlox  - Dreamcatcher  - 65,00
11. Wijnanda van Brenk - Urbanes - 64,83
12. Remy Bastings - Deauville - 64,10
13. Linda van der Hauw-Jansma   - Tiadette LN - 63,80
14. Stephanie de Frel  - Zethar -  63,50
15. Mirelle van Kemenade-Witlox  - Vivaldo - 63,40
16. Jan Pieter Weenink   - Tobias - 62,53
17. Remy Bastings -   Zecchino  - 60,47
Derk Schekkerman - Ucola - DNS
Big Tour - Round 2 - Kur to Music
1. Diederik van Silfhout - Bonzanjo - 77,208
2. Marlies van Baalen - Zigeuner Dvb - 74,458
3. Marjan Van Der Jagt - Radetzky - 71,875
4. Johan Rockx - Verdi De La Fazenda - 70,042
5. Kirsten Beckers - Westpoint -  69,750
6. Wijnanda van Brenk  - Urbanes  -   66,833
7. Mirelle van Kemenade-Witlox - Dreamcatcher  -  66,625
8. Miriam Hollander -Wilfonia - 65,958
Big Tour - Overall Ranking
1. Diederik van Silfhout - Bonzanjo - 74,954
2. Marlies van Baalen - Zigeurner DVB - 72,614
3. Marjan van der Jagt - Radetsky - 70,888
4. Johan Rockx - Verdi de la Fazenda - 69,171
5. Kirsten Beckers  - Westpoint  -68,990
Related Links
Heijkoop and Van Baalen Win the 2014 Dutch Indoor Dressage Championships
Gal and Maas Win the 2013 Dutch Indoor Dressage Championships
Witte-Vrees and Maas Dominate 2012 Dutch Indoor Dressage Championships
Minderhoud and Maas Grab the Titles at the 2011 Dutch Indoor Dressage Championships
Krooswijk, Witte-Vrees and Haazen, 2010 Dutch Indoor Dressage Champions
Edward Gal and Totilas Win 2009 Dutch Indoor Dressage Championships
Maas and Van Grunsven, 2008 Dutch Indoor Champions
Hanzon and Cornelissen In the Blue at 2007 Dutch Indoor Championships
Schulkens, Beckers, Vrees and Van Lieren, 2005 Dutch Indoor Champions
Schulkens, Haazen, Hanzon and Callaghan 2003 Dutch Indoor Champions