Trakehner Breeding News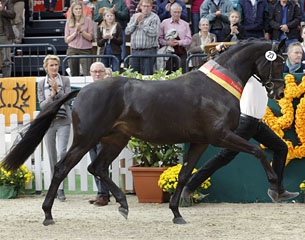 Sir Sansibar was named champion of the 2014 Trakehner Stallion Licensing on Sunday morning 19 October 2014. The black stallion (by Millenium x Cadeau) is bred by Gestut Hohenschmark. At the auction he sold for the top knock down price of 300,000 euro to Eva-Maria Aufrecht in Austria.
A total of 16 young Trakehner stallions was approved at the 2014 licensing and that included a candidate from the first ever Under Saddle Approval, the 3-year old Tudor. Five of the 16 Approved stallion candidates received premium status.
The reserve licensing champion is the bright bay High Motion (by Saint Syr x Summertime). He is bred by Luise Bredemeier and owned by the High Motion syndicate.
The three other premium stallions are the American bred chestnut Davidas (by Horales x Inschallah), the Polish bred Niagara (by Kentucky x Wiec), and the German bred Octavian (by Millennium x Hohenstein).  The latter became the second most expensive horse at auction. He sold for 100,000 euro to Bavaria. The well jumping Davidas sold for 93,000 to a group of buyers, which included Gestüt Welvert.
The approval results were met with screams of joy, celebration and applause and these signs of happiness were not only coming from the breeders and owners of the Trakehner stallions, but also from the spectators - even when not every decision was met with unending clapping. It was a strong group that presented itself this year for approval at the Trakehner Stallion Market in the Holstenhalle.
The collection of licensed stallions was actually not the largest with 31 stallions presenting themselves, but it impressed with quality. Millenium, the 2nd reserve champion form the Trakehner Stallion Market 2010, delivered a very impressive contribution this year: Three of his five selected offspring were licensed and two were named premium.
The Trakehner Approval Committee also approved two half-blood stallions: Le Chevalier (by Cavallieri xx-Vespucci), bred by Klaus-Dieter Markgraf, and Orlow (by Favoritas xx-Heops) bred by the K. Zimmermann/Lorenz Breeding Group.

The other licensed stallions are:
Donauabend (by Abendtanz x Lauries Crusador xx) - Owner: Burkhard Wahler, Bad Bevensen
Timberland (by All Inclusive x Schwadroneur) - Owner: Karl-Heinz Schulenburg, Kasseedorf
Alborolo (by Herbstkönig x Polarion) - Owner: Bernd Eisenmenger, Bubenheim
Donauherbst (by Herbstkönig x Kasparow) - Owner: Johann Albert Timmermann, Schenefeld
Vapiano (by Kentucky x Easy Game ) - Owner: Gestüt Radegast Ralph and Carsten Vogel GbR, Radegast
Ivanhoe (by Millenium x Hohenstein) - Owner: Antonie G. Hofmann, De Wiejk, The Netherlands
Sir Oliver (by Oliver Twist x Biotop) - Owner: Gestüt Heinen-Issum, Issum
Greenwich Park (by Saint Cyr x Alter Fritz) - Owner: Bernhard Langels, Schäplitz
Tudor (by Iskander xSixtus) - Owner: Family Gellhaar, Steinau
Photo © Stefan Lafrentz
Related Links
Hopkins, Top Seller at 2014 Trakehner Sport Horse Auction
2014 Trakehner Stallion Licensing Kicks Off with Hard Surface Presentation
Easy Game Proclaimed Trakehner Elite Stallion
2014 Trakehner Stallion Market with Top of the Bill Auction Collection