2014 French Young Horse Championships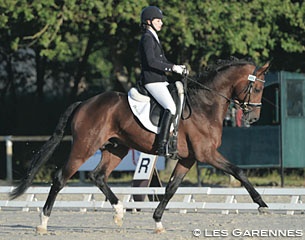 The 4-year old Quaterdance, the 5-year old Kojak, and the 6-year old Hermes de Hus were the grand champions at the 2014 French Young Horse Championships, which took place in Saumur, France, on 26 - 28 September 2014 co-inciding with the indoor CDI Saumur.  The French Young horse nationals are annually a well attended event with primarily German bred horses taking the spotlight.
The 4-year old division was won by Belgian rider Amandine Prevost aboard the bay Quaterdance (by Quaterback x Expose), bred and owned by S.A. Montaigu. Prevost and Quaterdance won both rounds of the Championships, the first counting for a coefficient of 0.4 and the second final round for a coefficient of 2. They scored 88.17 and 91.00 to finish on a winning total of 90.528%. The silver medal went to Nuno Chaveiro on the Hanoverian bred Sultan des Paluds (by Soliman de Hus x De Niro). He was second twice with 86.83% and 85.80%. Jessica Michel and the KWPN bred Fusion de Hus (by Rubiquil x Krack C) landed the bronze after two fourth places with 83.50% and 84.80%.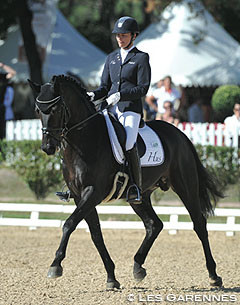 In the 5-year old division, French representatives at the World Young Horse Championships in Verden and last year's French 4-year old champions, Clemence Cathala and the Trakehner Kojak (by Grand Passion x Kennedy) bested the field and took the title in their division with 80.000% and 88.200%, totalling 87.130%.  Gildas Flament and the Hanoverian Al Capone (by Belissimo M x Lauries Crusador xx) were the runners-up with 84.50 and 82.40%. Myriam Kysters and the Dutch bred Estillio (by Rubiquil x May Sherif) were seventh in the first round (78.33%) but climbed to third place in the finals round (79.40%) to end up with bronze.
Jessica Michel and Xavier Marie's Hanoverian Hermes de Hus (by Hotline x Rohdiamant) won the 6-year old division after a third place in the first round (84.17%) and a victory in the finals' round (83.000). A French champion in 2013, the black Hermes de Hus totalled 83.106% for the gold. French Young Rider Corentin Pottier led the Dutch bred mare Dewi M (by Sandro Hit x Jazz) to silver with an 81.00 and 82.00% score. Sylvie Desfrenne and the Hanoverian mare Romina (by Royal Blend x Weltmeyer) placed fifth in round A (82.67%) and third in the finals (80.40%) which brought their total score of 80.606% and the bronze medal.
Photos © Les Garennes / Courtesy Cadre Noir
Results - 2014 French Young Horse Championships - Saumur
4-year olds (top 10)

1. Amandine Prevost - Quaterdance (by Quaterback x Expose) - 90.528
2. Nuno Chaveiro - Sultan des Paluds (by Soliman de Hus x De Niro) - 85.972
3. Jessica Michel - Fusion de Hus (by Rubiquil x Krack C) - 84.583
4. Damien Dumoulin - Bellissimo du Hans (by Benetton Dream x Wolkentanz I) - 84.389
5. Lena Thouvenin - Brisbane (by Bonifatius x Salieri) - 83.500
6. Renaud Ramadier - Alquazar de Masa (by San Amour x Landim) - 80.833
7. Guillaume Recoing - Sting de Hus (by Soliman de Hus x Argentinus) - 79.750
8. Guillaume Recoing - Byzance de Hus (by Belissimo M x Furst Heinrich) - 79.722
9. Claire Gosselin - Aliz de Lauture (by Karamel de Lauture x Looping) - 79.444
10. Bernadette Brune - Biscaya (by Bordeaux x Quattro B) - 79.222
5-year olds (top 10)

1. Clemence Cathala - Kojak (by Grand Passion x Kennedy) - 87.13
2. Gildas Flament - Al Capone (by Belissimo M x Lauries Crusador xx) - 82.674
3. Myriam Kusters - Estilio (by Rubiquil x May Sherif) - 79.261
4. Catherine Noel - Selda (by Soliman de Hus x Rotspon) - 78.130
5. Jerome Benazouaou - Sunny Gold (by Serano Gold x Weltmeyer) - 77.63
6. Laurence Blaya - Lino (by Lissaro x Primeur's As) - 76.391
7. Alizee Roussel - Quaterbold du Payrol (by Quaterback x Donnerschwee) - 76.087
8. Marie Agnes Bonassies - Sir Misty Cavok (by Scolari x Royal Prince) - 76.065
9. Marie Varin - Vrak du Bourg (by Furst Romancier x Warkant) - 74.152
10. Claire Keromnes - Jazpot de Lure (by Jazz Rubin x Dynast) - 73.652
6-year olds (top 10)

1. Jessica Michel - Hermes de Hus (by Hotline x Rohdiamant) - 83.106
2. Corentin Pottier - Dewi M (by Sandro Hit x Jazz) - 81.909
3. Sylvie Desfrenne - Romina (by Royal Blend x Weltmeyer) - 80.606
4. Maeva Hoang - Diolita DN (by Tango x Glendale) - 79.712
5. Guillaume Philip - MAestoso Beja II (by Maestoso Basowizza x Siglavy Dagmar) - 77.758
6. Myriam Kusters - Dante (by Faustinus x Goodtimes) - 77.576
7. Marine Subileau - Souvenir Reel Oaklor (by Sir Donnerhall I x Pik L) - 76.939
8. Caroline Rioche - Urielo du Houx (by Sandro Hit x Florencio) - 76.879
9. Jean Paul Largy - Ultra Time (by Londontime x Rotspon) - 73.530
10. Charlotte Bourrion - Deejay PB (by Jazz x Doruto) - 73.333
Related Links
Kojak, Hermes de Hus, Django de Charry Win 2013 French Young Horse Championships
Don Juan de Hus, Danciero de Hus, Dona Primera Win 2012 French Young Horse Championships
Blacktime, Grand Passion, Socrate de Hus Win 2010 French Young Horse Championships
Rock N Roll Star, Socrate de Hus and Wodan are 2009 French Young Horse Champions
Jessica Michel, Triple French Champion with Prime Time, Noble Dream, Riwera at 2007 French Young Horse Championships