2014 Belgian Pony Championships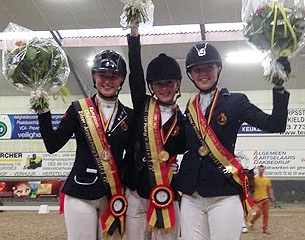 Antonia Arl is following in her elder sister Lavinia's footsteps taking the Belgian National Pony Title on their pony, Equestricons Epiascer, at the 2014 Belgian FEI Pony Championships held in Meerdonk, Belgium on 26 - 28 September 2014.  With gold awarded to Arl, Elle Peytier moved into silver position and Dente de Schepper got bronze.
The 2014 Belgian Pony Championships were postponed until September at the 2014 Belgian Championships took place begin August at the same time as the 2014 European Pony Championships were held. As the Belgian team was competing there, the Pony Nationals were moved to September to provide fair competition for all.
As the field was large the competition was tough but Arl and De Schepper were able to keep a firm hold on their positions for the medals throughout the weekend.
The soon to be 14-year old Antonia Arl and her 14-year old Belgian Riding Pony gelding Equestrian Epiascer (by Ten Ankers Jerolianca x Large River Cleopas) were undefeated, winning all three rounds with solid seventy percentage marks. The duo posted a 70.897% in the team test, 72,805% in the individual test and a whopping 76,600% in the Kur to Music.
"Belgian Champion 2014, I won all three tests," said an overjoyed Antonia. "I won gold in the finals with 76.8 and even got 81% from one judge. I'm so incredibly proud of my top pony Epiascer. This is a fantastic conclusion of a super show season. I'm so grateful to my team for their support."
The silver medal went to Elle Peytier who recently brought her pony, the 10-year old Dutch riding pony Icarus van de Bulkse Hoeve (by Isarco x Elegant), back from  injury. Peytier was very solid in two rounds, but dropped in the ranking in the individual test. With a big score in the Kur to Music she climbed her way back onto the podium. She scored 70.641%, 64.854 % and 75.175%.
"I'm very very happy with the finals today," Peytier said after the kur. "A top score of 75.175% is really incredible. I'm very happy it went so well after yesterday. I'm very grateful for all my fans who came to cheer me on."
Isabel Cool's student Dente de Schepper is in her first year at FEI pony level aboard the young 6-year old New Forest Pony Orchid's Syria (by Kanshebber x Watershof Pretendent). At the Nationals she proved talent and form and rode the bay mare to bronze.  She placed third thrice with 67.846%,  68.610% and 71.775%.
"I got bronze at the Belgian Championships and also a third in the kur with 71.775%," said an ecstatic De Schepper. "I'm so incredibly proud of the 6-year old Syria. Thanks to my coach for all the training and my parents for all opportunities they have give me."
Photo © Annick De Spiegeleer
Results - 2014 Belgian Pony Championships - Hulsterlo
Round 1 - Team Championship Test
1. Arl Antonia -  Equestricons Epiascer - 70,897  
2. Peytier Elle - Icarus van de Bulksehoeve -  70,641 
3. De Schepper Dente  - Orchid's Syria  -  67,846
4. Peytier Inne - Schermeer S Hof Aladin - 66,949 
5. Hendrikx Suraya  - De Rechri  - 66,513 
6. De Graeve Laura -  Rasputin -  66,462   
7. Heidbuchel Amber- Ashen Dew-Drop -   66,410 
8. Luyten Laura - Nieuwmoeds Rudo -  65,795
8. Goethals Ann-sophie -  Orchid's Tygo -   65,795  
10. Heidbuchel Amber - Dollarboy S-g -  65,205
11. Luyten Laura -  Jerome van de Vondelhoeve - 64,077
12. Rynders Yana  - Enzo Leco - 62,949 
13. Van De Velde Jozefien -  Tunja's Eduard - 62,615  
14. Van Zwol Julia -  Concierge  - 62,590
15. Wouters Tess -  Hendi's Bolero - 62,231 
16. Mommaerts Ayko - Rumba Wilgenhaar's - 59,385
Round 2 - Individual Test
1. Arl Antonia - Equestricons Epiascer  - 72,805 
2. De Graeve Laura - Rasputin - 68,732 
3. De Schepper Dente -  Orchid's Syria  -  68,610
4. Luyten Laura -  Nieuwmoeds Rudo -   66,732 
5. Heidbuchel Amber -  Ashen Dew-Drop -  66,000 
6. Rynders Yana -  Enzo Leco - 65,854 
7. Hendrikx Suraya - De Rechri - 65,659
8. Goethals Ann-sophie -   Orchid's Tygo - 65,073 
9. Peytier Inne - Schermeer's Hof Aladin - 64,976  
10. Peytier Elle  - Icarus van de Bulksehoeve  - 64,854
11. Heidbuchel Amber  - Dollarboy S-g - 64,610
12. Van De Velde Jozefien - Tunja's Eduard - 64,439  
13. Luyten Laura -  Jerome van de Vondelhoeve - 64,024 
14. Wouters Tess -  Hendi's Bolero - 62,902 
15. Van Zwol Julia  -  Concierge - 62,878
16. Mommaerts Ayko  - Rumba Wilgenhaar's - 58,902
Round 3 - Kur to Music
1. Arl Antonia -  Equestricons Epiascer - 76,600
2. Peytier Elle - Icarus van de Bulksehoeve - 75,175
3. De Schepper Dente - Orchid's Syria - 71,775 
4. Hendrikx Suraya - De Rechri  - 70,875 
5. De Graeve Laura - Rasputin  - 70,600 
6. Peytier Inne - Schermeer's Hof Aladin - 70,250 
7. Luyten Laura -  Nieuwmoeds Rudo - 69,725
8. Heidbuchel Amber -  Ashen Dew-Drop  -  69,500 
9. Goethals Ann-sophie -  Orchid's Tygo -  68,050
10. Van De Velde Jozefien - Tunja's Eduard - 67,050
11. Wouters Tess -  Hendi's Bolero  -  67,000
12. Heidbuchel Amber - Dollarboy S-g -  66,300
13. Luyten Laura - Jerome van de Vondelhoeve -  65,975
14. Rynders Yana - Enzo Leco - 65,350 
15. Van Zwol Julia -  Concierge - 63,90
Overall Standing
1. Arl Antonia - Equestricons Epiascer
2. Peytier Elle  - Icarus van de Bulksehoeve
3. De Schepper Dente - Orchid's Syria
4. De Graeve Laura - Rasputin
5. Hendrikx Suraya  - De Rechri 
6. Luyten Laura -  Nieuwmoeds Rudo 
7. Peytier Inne  -Schermeer's Hof Aladin
8. Heidbuchel Amber - Ashen Dew-Drop
9. Goethals Ann-sophie - Orchid's Tygo
10. Rynders Yana -  Enzo Leco
11. Van De Velde Jozefien  - Tunja's Eduard
12. Wouters Tess - Hendi's Bolero
13. Van Zwol Julia -  Concierge
Related Links
Verberne, Verwimp and Vanommeslaghe Win 2014 Belgian Dressage Championships
Arl, Defalque, Verwimp, Missiaen Win 2013 Belgian Dressage Championships
Arl, Verwimp, Waelkens, Devroe Win 2012 Belgian Dressage Championships
Jeroen Devroe Prevails at 2011 Belgian Dressage Championships
Jeroen Devroe Captures Sixth Belgian Grand Prix Champion's Title
Goris, Mommen, D'Hoore and Devroe 2009 Belgian Champions
Van Olst, Mommen, Vandenberghe Win 2008 Belgian Youth Riders Championships
Stefan van Ingelgem, 2008 Belgian Dressage Champion
Van Olst, Mommen, De Souter, De Deken and Devroe, 2007 Belgian Dressage Champions
Arlette Holsters and Faible Win 1998 Belgian Dressage Championships
Meiresonne, Pauluis, Smits, 1997 Belgian Youth Riders Champions