2014 CDI Saugerties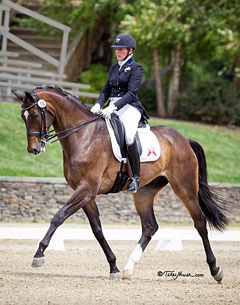 With the 2015 Pan American Games on her mind Dutch born American Grand Prix rider Eliane Cordia-van Reesema has proven form at the 2014 CDI Sauguerties in New York state on 19 September 2014. Aboard the home bred Jewel's Amethyst she was the highest placed American rider behind a trio of Canadians in the Prix St Georges. The young duo has gained valuable ring experience and exposure in preparation of the U.S. Pan Am team qualifiers next year.
The 38-year old Rowayton, CT based rider, who trains with Canadian Olympian Ashley Holzer in New York, took the KWPN registered Jewel's Amethyst (by Sandro Hit x Loutano x Flemmingh) out for his small tour debut at the 2014 Global Dressage Festival in Wellington, Florida, last winter. The pair made its CDI debut at the 2014 CDI-W Palgrave in June and has been working on confirming the FEI movements on her 9-year old.
"I've been working very hard on improving his self-carriage," Cordia-Van Reesema explained. "We want him to be stronger so he can pick up his back more and strengthen his abdominals. I want to achieve more balance so he gets more confident in his work day by day."
At Saugerties this weekend, the pair scored a strong 68.509% to finish fourth in the Prix St Georges and there was much more left in the tank.
"He's 9 with very little ring mileage and still feels green at Prix St Georges level," Eliane explained. "He gets intimidated in the show ring and tries to get behind my aids. But now in Saugerties he was really with me, responsive and sharp. I'm so proud of him. Now we just need to work on the fine tuning."
From Baby to Big Time Grand Prix
A firm believer in building solid foundations, Cordia-van Reesema loves working with home bred horse and has been able to count on the never ending support of her parents to achieve her dream. Her parents own the prestigious Jewel Court Stud in Wuustwezel, Belgium, home to several Olympic show jumping team horses. The past decade the stud farm has branched out to dressage.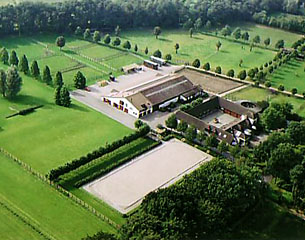 Eliane started riding at age 7, straddling her bike in boots and breeches to make her way to the local pony club in Schilde. Her parents Willem and Marijke Cordia realised there was only one way to stop their daughter from begging for a horse on each birthday and got her first one when she was 12. Eliane had to share the jumper with her brother Kees Jan  though.
"My parents then built a small two-stall barn in the garden and we just rode on the lawn in between the flower patches," Eliane reminsced about the beginnings of her riding career. "They slowly started to enjoy the sport as well and bought the big stable in Wuustwezel, which my trainer at the time, Mark Verheyen, managed for them."
The Cordia family soon moved to live at Jewel Court Stud and while their children were growing up and learning to ride they professionalized the yard by attracting top Dutch show jumpers, such as Piet Raijmakers, Albert Voorn, and Ben Schroeder. Jewel Court Stud owned the 1992 Olympic show jumping champion Classic Touch (by Caletto II x Landgraf) which became a foundation broodmare at the farm. The Oldenburg stallion Dominard (by Domoni x Perfekt) was acquired in 1995 for Albert Voorn and Kees Jan, and became the foundation stallion of the stable.
"The focal point at the farm was on show jumping, but I was good at warming up the horses," said Eliane. "I was 16 year old and doing their flatwork. The jumpers that weren't good enough for international sport, I would retrain for dressage."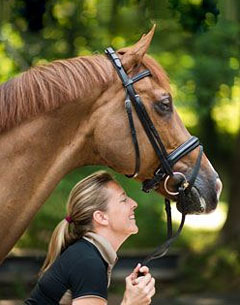 With an obvious talent for gymnasticizing horses and less interest in show jumping, Eliane infused Jewel Court Stud with a touch of dressage.  In the late 1990s she tried out for the Dutch Young Riders team on Palladium and got her first Grand Prix horse, the Westfalian Caracol (by Cartusch), in 2000.
Eliane picked up training with Sven Rothenberger on recommendation of Piet Raijmakers. In 1999 she moved to a more local, professional yard, Bartels Academy in The Netherlands, where she got coached by Tineke and Imke Bartels until she moved to the U.S.A. in 2006. Eliane did her Masters Degree in Horse Sportsmanship in Deurne, The Netherlands, and became an internationally certified dressage trainer. She currently teaches dressage at Peter Leone's Lionshare Farm in Greenwich, CT. Peter is competing three of Jewel Court Stud's homebred horses and recently won the Hampton Classic Grand Prix on Exclusive Touch (by Querlebet Hero x Caletto II).
Touch of Dressage
After meeting Dutch born American Volckert van Reesema at the New York marathon, Eliane married him in 2006 and is now a mother of three, Jasper (6), Fleur (3) and Nicoline (1). She has established the U.S. branch of Jewel Court Stud and is importing their home bred dressage horses after they have been reared and saddle broken in Europe.
"It is much cheaper to have them grow up and trained in Europe when they are young. You have top riders there and the horses can be properly started on the big young horse show circuit there," Eliane explained.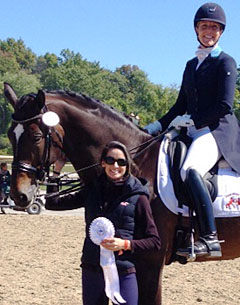 Amethyst is a good example of the Jewel Court Stud philosphy. He is by Sandro Hit out of Eliane's Prix St Georges mare Pirouette (by Loutano x Flemmingh) and arrived in the U.S.A last year.
"He was trained in Europe by Dominique Filion and got high marks there for his gaits in the VSN Trophy Finals," Eliane stated. "He's 1.80m tall so I'm giving him enough to grow and become strong. He's picking up the small tour work easily but needs to become more solid and confirmed in the movements."
Eliane has two more exciting prospects coming to the U.S.A soon: the rising 6-year old licensed stallion Jewel's Sir Weihbach (by Sir Donnerhall x Don Schufro x Sandro Hit), which she bought as a foal, and the home bred 3-year old Jewel's Touch of Totilas (by Totilas out of A Jewel's touch (by Dominard x Caletto II)).
Photos © Terri Miller - Private
Related Links
Scores: 2014 CDI Saugerties
Eliane Cordia-van Reesema, Dutch Rider with U.S. Pan Am Team Ambitions