2014 World Equestrian Games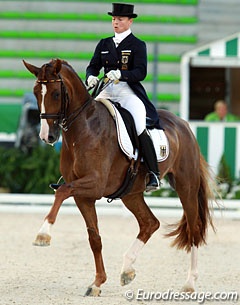 The 2014 World Equestrian Games have ended for star pair Isabell Werth and Bella Rose. After winning team gold told in the Grand Prix, Bella Rose became unsound and was withdrawn from further competition. She has not been included on the Grand Prix Special starting list and her place will be taken by the 31st place getter of the Grand Prix, Marc Boblet and Noble Dream.
Bella Rose is suffering from an inflammation of the laminae.
"It's totally unexpected and I'm deeply disappointed," Werth commented. "Of course I don't want to take any risk and the health of the mare is priority. That is why I withdrew from the Special." German team trainer Monica Theodorescu added, "I really regret this as the mare presented herself fantastically. I really wished they could have ridden the Special and the Kur."
Isabell Werth and Bella Rose (by Belissimo M x Cacir AA) had a dream start in Caen, France, and after placing second in the Grand Prix with 81.529%, they were considered serious contenders for an individual medal in the Special on Wednesday and Kur to Music on Friday.  The WEG has now ended for the 10-year old Westfalian mare, which is owned by Madeleine Winter-Schulze.
At the Grand Prix press conference less than one hour ago, Werth did not say a word about her horse's condition but mentioned that she was "really proud of the team." She added that she has been riding Bella Rose since she was three. "We bought her from the breeder, who is here in Caen. From the first moment I was inspired by her. She had charisma."
Bella Rose is the fourth top horse that has dropped out from the 2014 World Equestrian Games. Right before the teams departed for Normandy, Matthias Rath withdrew Totilas due to an injury and the same thing happened with Edward Gal's number one horse Undercover and Danielle Heijkoop's Siro.
Text and Photos by Astrid Appels - NO REPRODUCTION ALLOWED !!!
Related Link
Eurodressage Coverage of the 2014 World Equestrian Games