2014 Danish Elite Foal Auction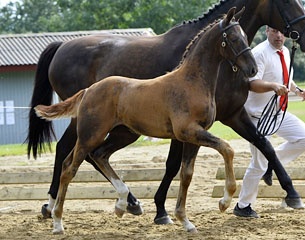 The 2014 Danish Warmblood Elite Foal Auction, which takes place in Vilhelmsborg, Denmark, on 30 August 2014, is boasting an impressive collection of dressage and show jumping foals with clear talent for the future.
Sixtt-six foals have been selected for the Elite Foal Auction with the majority being dressage bred foals by renowned sires such as Zack, Furstenball, Londonderry, Dancier, Sandro Hit, and Floriscount. Young sires such as Sezuan, Tomahawk, Veneziano, First Choice and Franziskus amongst others are also represented in the collection with their offspring.
Highlights of the collection include Dancing Dream (by Dancier x Romanov x Don Schufro) whose full brother was the 2010 Danish Warmblood Dessage Colt of the Year Dancing Hit. Strandagergards Sirocco is by World Young Horse Champion Sezuan out of a Don Romanti dam. He was best in show at the Region 3 foal Show and is an extraordinary mover.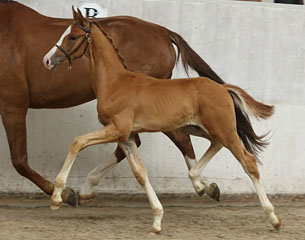 The bay filly Skovens Tzarina became best-in-show dressage filly in Region 4 and stood out with her type and movement. Colt T-Hawk Axe (by Tomahawk x Zack x Michellino) was best-in-show in Region 6. He is long-legged, large-framed and very masculine, and his gaits are supple and powerful.
The auction will take place on 30 August 2014 at 19h30 at the Danish Warmblood Equestrian Centre in Vilhelmsborg near Århus. The presentation of the collection starts at at 14h30 pm. The auction will be streamed live on www.clipmyhorse.de
Check out the entire 2014 Danish Warmblood Elite Foal Collection here.
If you have questions about the auction lot, please do not hesitate to contact:
Casper Cassøe
Tel.: 0045 40 29 32 08
Ulrik Kristensen
Tel.: 0045 40 19 52 12
Email: auktion@varmblod.dk